ZERO BASE BUDGETING
Zero base budgeting is that form of budgeting wherein each cost element for the period is clearly justified, in terms of cost benefits. The management analyses and prioritizes the activities, depending on the determinants like alignment with the organizational objectives, fund availability, etc.
Hence, all the activities are reassessed every time the budget is prepared. Its aim is to reduce the expenditure, by identifying the areas where cost can be cut.
ACCORDING TO ORIGINATOR PETER A PYHER
"A planning and budgeting process which requires each manager to justify his entire budget request in detail from scratch (hence zero base) and shifts the burden of proof to each manager to justify why he should spend any money at all. The approach requires that all activities be analyzed in 'decision packages' which are evaluated by systematic analysis and ranked in order of importance."
ACCORDING TO CHARTERED INSTITUTE OF MANAGEMENT ACCOUNTANTS, LONDON
"Zero Base Budgeting is a method of budgeting whereby all activities are revaluated each time a budget is set. Discrete levels of each activity are valued and a combination chosen to match funds available".
ACCORDING TO LEONARD MEREUNIT AND STEPHEN SOSMICK
"ZBB is a technique, which complements and links the existing planning, budgeting and review processes, it identifies alternative efficient methods of utilizing limited resources in effective attainment of selected benefits. It is a flexible management approach, which provides credible rationale for reallocating resources by focusing on the systematic review and justification of the funding and performance levels of current programmes or activities."
EVOLUTION OF ZERO BASE BUDGETING
In 1964, The United States Department of Agriculture introduced this system, but it was not found to be quite successful and, hence, abandoned. In the early seventies, however, it was Peter, A. Pyher, a staff control manager of Texas Instrument Corporation, United States of America, who introduced and developed this technique through his writings.
Since then, a good number of private sector organisations have introduced ZBB in Budgetary Control, particularly in the U.S.A. And again, in 1972, the State of Georgia introduced the technique and the then governor of the State of Georgia, Jimmy Carter, recognised widely the relevance of ZBB and when he became the president of the U.S.A., he introduced this system in the Federal Govt., in 1977. The public sector undertaking also showed keen interest in ZBB and adopted the technique in budgeting.
FEATURES OF ZERO BASE BUDGETING
Manager of a decision unit has to completely justify why there should be at all any budget allotment for his decision unit. This justification is to be made a fresh without making reference to previous level of spending in his department.
Activities are identified in decision packages.
Decision packages are ranked in order of priority.
Packages are evaluated by systematic analysis.
Under this approach there exist a frank relationship between superior and subordinates. Management agrees to fund for a specified service and manager decision of the decision unit clearly accepts to deliver the service.
Decision packages are linked with corporate objectives, which are clearly laid down.
Available resources are directed towards alternatives in order of priority to ensure optimum results.
NEED FOR ZERO BASE BUDGETING
There are a few reasons for which this budgeting works well. They are –
Systematic analysis is mandatory
Before ensuring which department or unit will get the funding, this budgeting encourages careful analysis of why the funding is required. If the manager can't give enough reasons to approve funding, there will be no funding available for that particular unit which comes down to the next reason for choosing traditional budgeting over traditional budgeting.
Ensures cost-effectiveness
One of the most important reasons for which zero-based budgeting is practiced is because it saves a lot of cost upfront. Let's say that you as a manager sees that one of the departments (let's say accounting) isn't doing well. The employees in the accounting department are performing poorly and their work isn't adding value to the profit generation of the company. In this scenario, you can do two things – first, you can put the employees of accounting into other job roles which will help them appreciate their own talent and abilities plus you can outsource the whole accounting department from next year. Since you're starting from zero, there will be almost no downside until you sit again next year to re-evaluate your decision.
It is based on decisions over routine
In traditional budgeting, most of the activities are routine. But in zero-based budgeting, decision triumphs over routine, things are questioned, approaches are analyzed, and things are redone. As a result, there's no room for habituation or wastage of time, money, effort. And the management also feels more in control because decision matters more than routine in this budgeting.
STAGES OF ZERO BASE BUDGETING
To understand the stages of ZBB, first of all, it is needed to know the meaning of decision packages. Decision packages refer to the development of an operational plan for the activities for which decisions are to be made. The stages are given as under: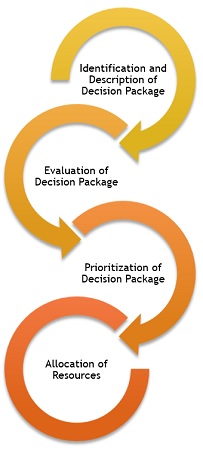 Identification and Description of Decision Packages: Decision package ascertains a particular activity, so as to analyse and rank the activities against other activities, with respect to the use of scarce resources and make decisions thereon.
Evaluation of Decision Packages: After identification and description, decision packages are evaluated considering the factors like alignment with the organizational objectives, regulatory requirement and availability of money.
Prioritisation of the Decision Packages: Decision packages are ranked on the basis of activities.
Allocation of Resources: Once the ranking is done, resources are allotted to the packages, which facilitates in the process of preparation of the budget, as it is done for the very first time, without any consideration to previous year's budgets.
The decision packages provide you with the details such as the cost involved, return, objective, expected outcome, alternatives available and consequences of non-performance of the activity.
ADVANTAGES OF ZERO BASE BUDGETING
Profit center
This budgeting prioritizes profits over expenses. That's why the departments or units which generate direct or indirect profits are given preference. As a result, businesses are able to get funding to generate more revenues and profits.
Very detailed
Details can save a business. This approach also reduces errors and helps a business look deeply into its processes. As a result, inefficiencies are taken care of and business becomes very effective.
It's strategic
Since the aim of a business is to grow, get more clients, and serve more customers; it helps to become strategic. This type of budgeting allows the business to be strategic in their approach and only expend the amount they need to grow. As a result, spending would have a direction and would become a means for a business to achieve something worthwhile.
It's situational
It doesn't encourage the practitioner to follow any rules/regulations. It is done with an end in mind and for achieving a purpose, i.e. maximizing the wealth of a business.
Efficiency
Zero-based Budgeting helps a business in the allocation of resources efficiently (department-wise) as it does not look at the previous budget numbers, instead looks at the actual numbers
Accuracy
Against the traditional budgeting method that involves mere some arbitrary changes to the earlier budget, this budgeting approach makes all departments relook every item of the cash flow and compute their operation costs. This methodology helps in cost reduction to a certain extent as it gives a true picture of costs against the desired performance.
Budget inflation
As mentioned above every expense is to be justified. Zero-based budget compensates the weakness of incremental budgeting of budget inflation.
Coordination and Communication
Zero-based budgeting provides better coordination and communication within the department and motivation to employees by involving them in decision-making.
Reduction in redundant activities
This approach leads to identify optimum opportunities and more cost-efficient ways of doing things by eliminating all the redundant or unproductive activities
DISADVANTAGES OF ZERO BASE BUDGETING
The following are the various demerits of zero base budgeting:
No focus on cost centres
Since cost centres don't help in generating immediate profits, this budgeting doesn't encourage funding them. And that is a downside because cost centers are responsible for the long-term health and profits of a company. If they aren't nurtured well, the whole company will get affected at the end of the day.
Too complex
It needs detailed attention and analysis. That's why it's become a complex job for managers. However, at the end of the day, this method pays off.
High Manpower Turnover
The foundation of zero-based budgeting itself is a zero. Budget under this concept is planned and prepared from the scratch and require the involvement of a large number of employees. Many departments may not have adequate human resource and time for the same.
Lack of Expertise
Providing an explanation for every line item and every cost is a problematic task and requires training for the managers.
Time consuming
Sometimes the necessary expenditures are hard to define for managers as a result of which it becomes too time-consuming and exhaustive a process to arrive at a solid foundation with respect to the decision-making about the investment.
Requires manpower
This approach forces staff (especially managers) to justify every detail related to the expenditures. For instance, because the R&D department cannot completely underpin their intended innovation, this could have advantages for the budgeting of another department because they are able to justify their expenditures in great detail.
Requires knowledge
In order to apply this approach appropriately, it is necessary to train managers well. For ZBB to be successfully implemented, managers at all levels of the organization must understand how zero based budgeting works in the organization as they are ultimately responsible for the management, decision-making and the communication of entire process.
Awareness for details
As the volume of the required data and forms is very large in zero based budgeting, no one is capable of knowing every detail of its content and decisions. There is a risk to compressing information and details because this might remove critically important data. This is a large risk.
CONCLUSION
Zero base budgeting targets at presenting true expenses to be incurred by a department. Although this budgeting method is time-consuming, this is a more appropriate way of budgeting. This includes all-inclusive analysis of the budget proposal and if the managers make irrelevant variations so as to achieve what they want, they are probably exposed.
JOIN THE CHANNEL ON TELEGRAM
CONNECT ON LINKEDIN