JOB COSTING VS BATCH COSTING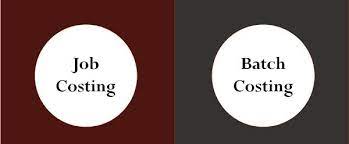 Job Costing VS Batch Costing is as follows:
| | | |
| --- | --- | --- |
| BASIS FOR COMPARISON | JOB COSTING | BATCH COSTING |
| Meaning | Job costing refers to a specific costing method, used when the production/work is carried out according to the requirements of customers. | Batch costing, is a form of job costing that is applied when the articles are produced in batches, i.e. a group of like units are produced. |
| Production | The product is produced as per customer specification. | The product is produced at large scale or there is mass production. |
| Product | Product has an independent identity, as each job is distinct from other jobs. | Products do not lose their individual identity, as they are manufactured in continuum. |
| Cost unit | The cost unit in job costing is Executed Job. | The cost unit in batch costing is Batch of goods produced. |
| Cost ascertainment | The cost is ascertained on the completion of each job. | The cost is ascertained for the whole batch and then per unit cost is determined. |
JOB COSTING VS BATCH COSTING
JOB COSTING
Job costing or job order costing also called specific order costing is a method of costing which is used when work is undertaken as per the customer's special requirement (tailor-made).
ACCORDING TO INSTITUTE OF COST AND MANAGEMENT ACCOUNTANTS, LONDON
"Job costing is that form of specific order costing which applies where work is undertaken to customer's specific requirements and each order is of comparatively of short duration."
Under this method of costing, each job is considered to be a distinct cost unit. As such, each job is separately identifiable. In the case of a job, work is usually carried out within the factory or workshop. Sometimes, a job is accomplished even in the customer's premises.
Job costing is employed in the following cases:
Where the production is against the order of the customer or jobs are executed for different customers according to their specifications.
Where each job needs special treatment and no two orders are necessarily alike.
Where there is no uniformity in the flow of production from one department to another.
Where the work-in-progress differs from period to period on the basis of the number of jobs in hand.
Job costing is applicable to printing, furniture, hardware, ship-building, heavy machinery, foundry general engineering works, machine tools, interior decoration, repairs and other similar work.
BATCH COSTING
Batch Costing is that form of specific order costing under which each batch is treated as a cost unit and costs are accumulated and ascertained separately for each batch. Each batch consists of a number of like units. To ascertain the cost per unit, the total cost of the batch is divided by the number of units produced in a batch. Batch costing is applied in industries where identical products are produced.