FEATURES OF PROCESS COSTING
PROCESS COSTING- MEANING
Process Costing is that aspect of operation costing which is used to ascertain the cost of the product at each process or stage of manufacture. This method of accounting used in industries where the process of manufacture is divided into two or more processes. The objective of process accounting is to find out the total cost of the process and the unit cost of the process for each and every process. Usually the industries where process costing used are textile, oil industries, cement, pharmaceutical etc.
ACCORDING TO CHARTERED INSTITUTE OF MANAGEMENT ACCOUNTANTS, LONDON
"Process costing is that form of operation costing which applies where standardize goods are produced."
Process costing is a method of costing under which all costs are accumulated for each stage of production or process, and the cost per unit of product is ascertained at each stage of production by dividing the cost of each process by the normal output of that process.
FEATURES OF PROCESS COSTING
Process costing is that aspect of operation costing which is used to ascertain the cost of the product at each process or stage of manufacture, where processes are carried on. Process costing is a costing method used by companies to determine the cost of producing a large quantity of similar products or services. It is commonly employed in industries such as manufacturing, chemical processing, and food processing. The key features of process costing include: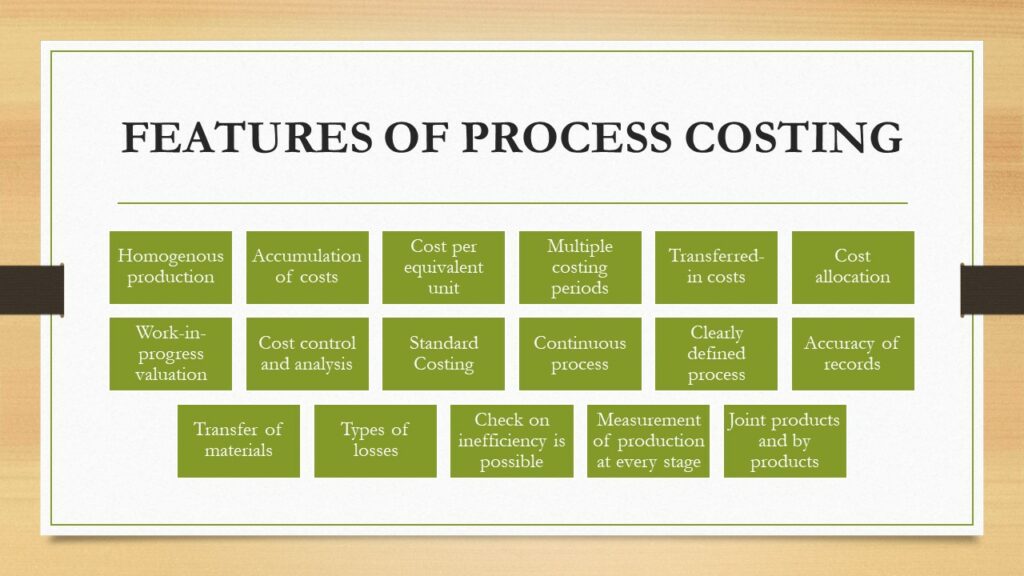 HOMOGENEOUS PRODUCTION: Process costing is suitable for industries where the products or services produced are identical or highly similar. The production process typically involves multiple stages or departments, and each unit goes through the same process steps.
ACCUMULATION OF COSTS: Process costing accumulates costs for each department or stage involved in the production process. The costs incurred, such as direct materials, direct labor, and manufacturing overhead, are recorded and allocated to each department.
COST PER EQUIVALENT UNIT: Process costing calculates the cost per equivalent unit for each department or stage. This is done by dividing the total cost incurred in a department by the number of equivalent units produced during a specific period. Equivalent units account for partially completed units, which are treated as work in progress.
MULTIPLE COSTING PERIODS: Process costing is applied over multiple costing periods, such as a month or a year. This allows for a more accurate assessment of costs incurred over time and helps in tracking cost trends and performance.
TRANSFERRED-IN COSTS: In process costing, some departments may receive partially completed units from preceding departments. These units carry costs incurred in the previous department, known as transferred-in costs. These costs are added to the costs incurred in the current department to calculate the total cost per equivalent unit.
COST ALLOCATION: Process costing allocates costs to individual units based on the average cost per equivalent unit for each department. This ensures that each unit is assigned a fair share of the costs incurred during the production process.
WORK-IN-PROGRESS VALUATION: Process costing provides a means to value work in progress at each department or stage. This helps in determining the value of inventory at different stages of completion and facilitates accurate financial reporting.
COST CONTROL AND ANALYSIS: Process costing allows companies to monitor and analyze costs at each department or stage. By identifying cost variations or inefficiencies, management can take corrective actions to optimize the production process and improve profitability.
STANDARD COSTING: Process costing can be used in conjunction with standard costing. Standard costs represent the expected costs for each unit or department based on predetermined standards. Comparing actual costs to standard costs helps in evaluating performance and identifying areas for improvement.
CONTINUOUS PROCESS: Production is done having a continuous flow of identical products except where plant and machinery is shut down for repairs, etc.
CLEARLY DEFINED PROCESS: In Process Costing, there is clearly defined process cost centres and the accumulation or all costs (materials, labour and overheads) by the cost centres.
ACCURACY OF RECORDS: The maintenance of accurate records of units and part units produced and cost incurred by each process.
TRANSFER OF MATERIALS: The finished product of one process becomes the raw materials of the next process or operation and so on until the final product is obtained.
TYPES OF LOSSES: Avoidable and unavoidable losses usually arise at different stages of manufacture for various reasons. Treatment of normal and abnormal losses or gains is to be studied in this method of costing.
CHECK ON INEFFICIENCY IS POSSIBLE: Sometimes goods are transferred from one process to another process not at cost price but at transfer price just to compare this with the market price and to have a check on the inefficiency and losses occurring in a particular process. Elimination of profit element from stock is to be learnt in this method of costing.
MEASUREMENT OF PRODUCTION AT EVERY STAGE: In order to obtain accurate average costs, it is necessary to measure the production at various stages of manufacture as all the input units may not be converted into finished goods; some may be in progress. Calculation of effective units is to be learnt in this method of costing.
JOINT PRODUCTS OR BY-PRODUCTS: Different products with or without by-products are simultaneously produced at one or more stages or processes of manufacture. The valuation of by-products and apportionment of joint cost before point of separation is an important aspect of this method of costing. In certain industries, by-products may require further processing before they can be sold. A main product of one firm may be a by-product of another firm and in certain circumstances, it may be available in the market at prices which are lower than the cost to the first mentioned firm. It is essential, therefore, that this cost be known so that advantages can be taken of these market conditions.
Process costing provides a systematic approach to determine the cost of production in industries characterized by continuous or repetitive processes. It helps companies understand the cost structure, make informed pricing decisions, and monitor production efficiency.