SCOPE OF ACCOUNTING
The scope of accounting is wide and extends in business, trade, government, financial institutions, individuals and families and every other avenues.
ACCORDING TO RJ BULL
The scope is as follows: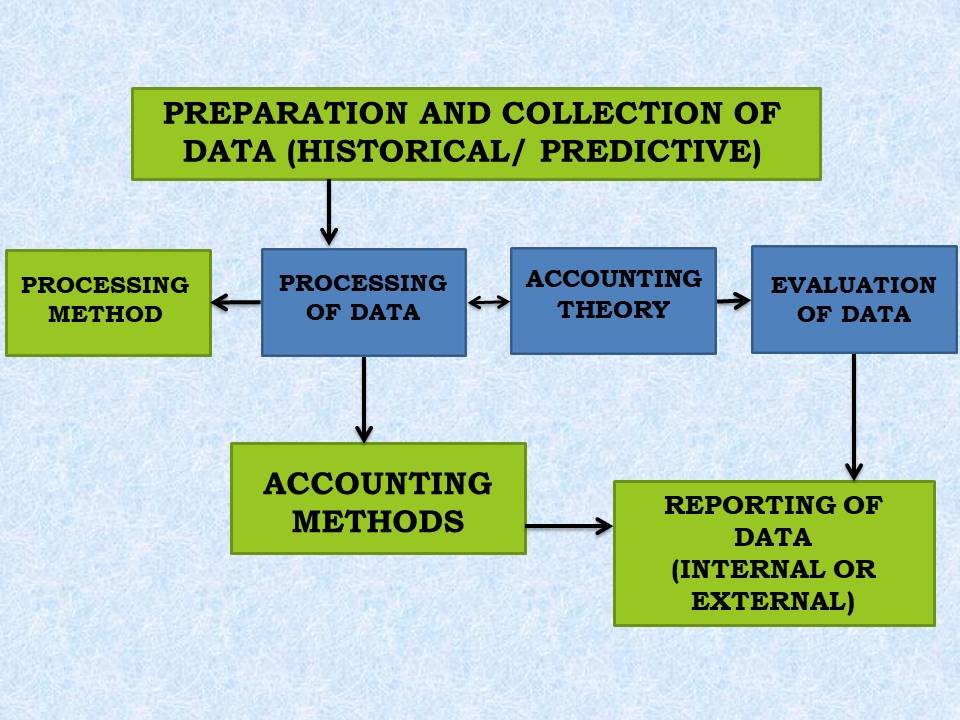 The above diagram makes it clear that accounting data is prepared and processed by using various methods of accounts. In a later stage, the report is prepared to evaluate accounting data. The report is prepared for external and internal users.
SCOPE OF ACCOUNTING IN PERSONAL LIFE
The financial transactions which occur in the individual life of a person are recorded properly in the books of accounts with a view to ascertain receipts, payments and liabilities.
SCOPE OF ACCOUNTING IN BUSINESS ORGANISATION
The accounting is rightly called 'Language of Business'. The prime objective of business is to earn profits. Financial transactions of a business concern are recorded in the books of accounts to ascertain operating results and financial position.
SCOPE OF ACCOUNTING IN NON-TRADING OR NON-PROFIT ORGANISATIONS
Accounting has its place in non- profit organisations also. The non- profit organisations make the record of all the donations received, subscription given by members and all the expenditure. For this purpose Receipt and Payment Account, Income and Expenditure Account and Balance Sheet are prepared. All the accounts are prepared as per the rule of Accounting.
SCOPE OF ACCOUNTING IN GOVERNMENT ORGANISATIONS OFFICES
The system of accounts is prevalent in government offices, courts and state owned organisations to determine income, expenditure and proper running of administration. In the preparation of national planning and budget, accounting information is needed and reason for national progress and regress can be known through interpretation and evaluation of accounting data.
SCOPE OF ACCOUNTING FOR PROFESSIONALS
Professionals like doctors, engineers, advocates/ lawyers, actors and actresses also maintain their accounts. They maintain their accounts to keep a check on their income and expenditure and also the income tax liability is determined from the same.
CONCLUSION
From the above discussion, it is very much clear that the field of accounts are very wide and it spreads in every walk of social life. Trade and commerce are rapidly changing and developing with the changes of everything in this dynamic world. The application of accounting has achieved anew shape with the development of technology. The advancement of accounting is continuing with the multifarious development of science and technology, factory and industry and trade and commerce.