PRINCIPLES OF SCIENTIFIC MANAGEMENT
Scientific Management is defined as Application of science for each and every element of management. It means application of the scientific methods, tools and techniques by the managers to manage each operation effectively and efficiently. The Principles of Scientific Management insists on replacing the Rule of Thumb by the science which means decisions in the organization should not be taken on the basis of wills and wishes of the management instead should be taken on the basis of scientific studies conducted.
ACCORDING TO FREDRICK WINSLOW TAYLOR
"Scientific management means knowing exactly what you want men to do and seeing that they do it in the best and cheapest way."
ACCORDING TO ASSOCIATION OF MECHANICAL ENGINEERS, USA
"It is the art and science of preparing, organizing and directing human effort applied to control the forces and utilize the materials of nature for the benefits of man."
ACCORDING TO PETER F DRUCKER
"It is the operational study of work, the analysis of work into its simplest element and the systematic improvement of the workers' performance of each element.
FREDRICK WINSLOW TAYLOR
FW Taylor was born in 1856 in Philadelphia, USA. He served in three companies: Midvale Steel, Simonds Rolling Machine and Bethlehem Steel. He is known as Father of Scientific Management because of his following contributions:
He emphasized on adoption of scientific methods to the problems of management.
He wrote various books and articles such as 'Shop Management (1930)', 'Principles of Scientific Management (1911)', 'Concrete Costs (1912)', 'Scientific Management (1913)', 'A Piece rate System (1895)', 'The Gospel of Efficiency(1911)'.
PRINCIPLES OF SCIENTIFIC MANAGEMENT
FW Taylor has formulated the following Principles of Scientific Management: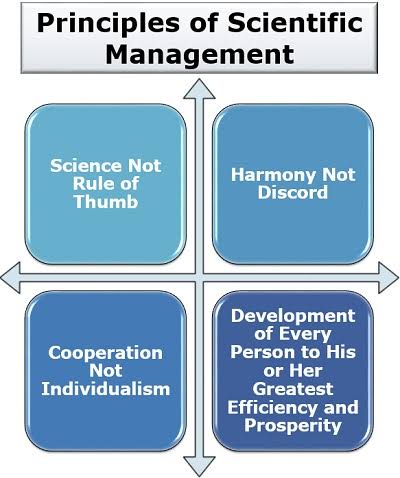 SCIENCE, NOT RULE OF THUMB
According to this principle, each activity should be done by adopting one best method. The best method should be selected by applying proper scientific rules, methods, tools and techniques and should not be select on the basis of Rule of Thumb.
Rule of Thumb means dictatorship of the manager. On the contrary, scientific decisions are based on cause and effect basis and scientific measurement of methods and way of production.
Example: In Rule of Thumb the standard time required to do a particular job is decided by the managers on the basis of his past experience. Taylor insists that the standard time for a job should be set up scientifically by performing time study in the organization and then the day's target should be fixed.
HARMONY, NOT DISCORD
As per this principle, there should be harmonized relationships among the persons of the organization and positive attitude towards each other.
Generally there are two groups in the organization: Workers Group and Management Group. The Management Group has a general thinking that the workers do not give their best. On the contrary, Worker Group feels that they are being exploited by the Management Group for their gains.
To overcome this discord, FW Taylor emphasizes on Mental Revolution, i.e. change of attitudes of both groups towards each other. Both groups should have positive attitude towards each other. Management Group should share the profits with Workers Group and in return workers group must give their best in operations. There should be paternalistic style of management.
Example: In Japanese companies, this principle is practiced as here managers treat workers as part of their family and workers do not show their agitation by going on strike rather they tie a black ribbon to show their dissatisfaction and gain sympathy of managers. Managers must work almost side by side with the workers, helping and encouraging them.
COOPERATION, NOT INDIVIDUALISM
This principle is an extension of Harmony, not Discord. This principle states that each activity in the organization should be done in cooperation with each other. Management while setting the standards must welcome the suggestions of the workers. This make the workers feel motivated and they will work harder to achieve the targets.
Example: While assigning job to workers if management asks them about their interest and then work is assigned according to their interest, definitely the workers will perform it more efficiently.
DEVELOPMENT OF WORKERS TO THEIR GREATER EFFICIENCY AND PROSPERITY
The industrial efficiency depends upon the efficiency of the workers. Worker's efficiency depends upon proper training and their selection. Taylor insisted that care should be taken while selecting the employees. Each person should be allotted the job as per his qualifications. The employees must be sent for training from time to time to update their knowledge. This will ensure greatest efficiency and prosperity for both company and workers.