MEANING
Management is a process of getting things done with the aim of achieving the goals effectively and efficiently. It consists of various inter-related functions such as planning, organizing, staffing, directing, coordinating and controlling for accomplishing the set targets of the organisation.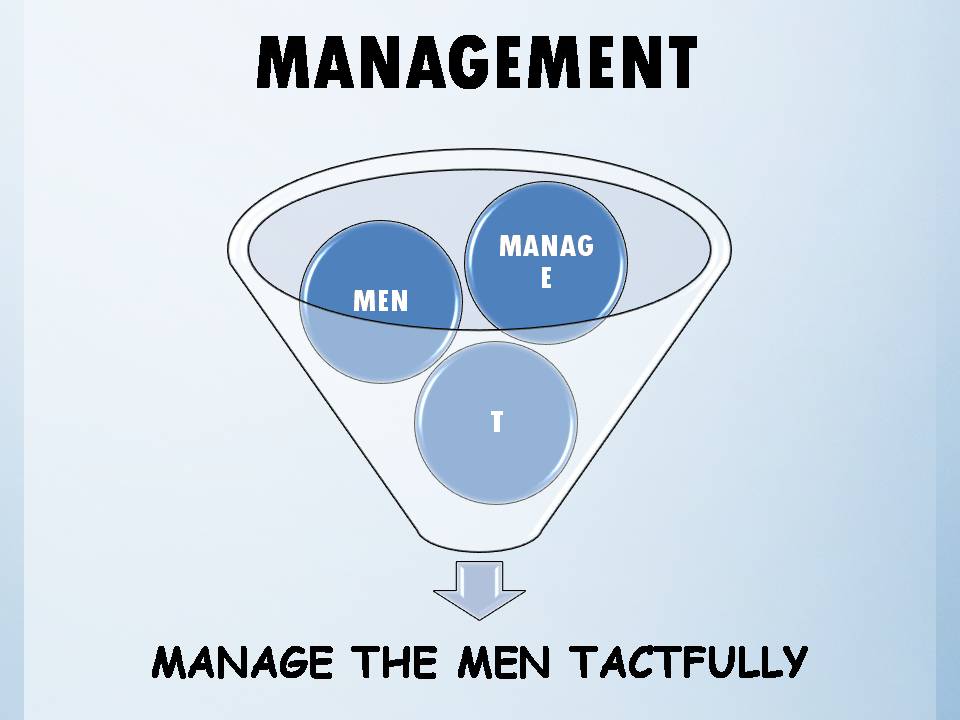 ACCORDING TO MARY PARKER FOLLETT
"Management is an art of getting things done through others."
ACCORDING TO HENRY FAYOL
"To manage is to forecast and plan, to organize, to command, to co-ordinate and to control."
ACCORDING TO HAROLD KOONTZ
"Management is an art of getting things done through others with people in formally organized groups."
ACCORDING TO LOUIS ALLEN
"Management is what manager does."
ACCORDING TO DONALD J CLOUGH
"Management is the art and science of decision-making and leadership."
ACCORDING TO ROSE MOORE
"Management means decision-making."
ACCORDING TO FW TAYLOR
"Management is the art of knowing what you want to do… in the best and cheapest way."
ACCORDING TO MARRIE AND DOUGLAS
"Management is the process by which a cooperative group directs actions of others towards common goals."
Thus, management consists of a group of persons who undertakes planning, organizing, staffing, directing, coordinating and controlling and use their skills, knowledge and expertise to achieve the goals of the business within the standard time with least cost incurred.
FEATURES OF MANAGEMENT
The features or characteristics are as follows: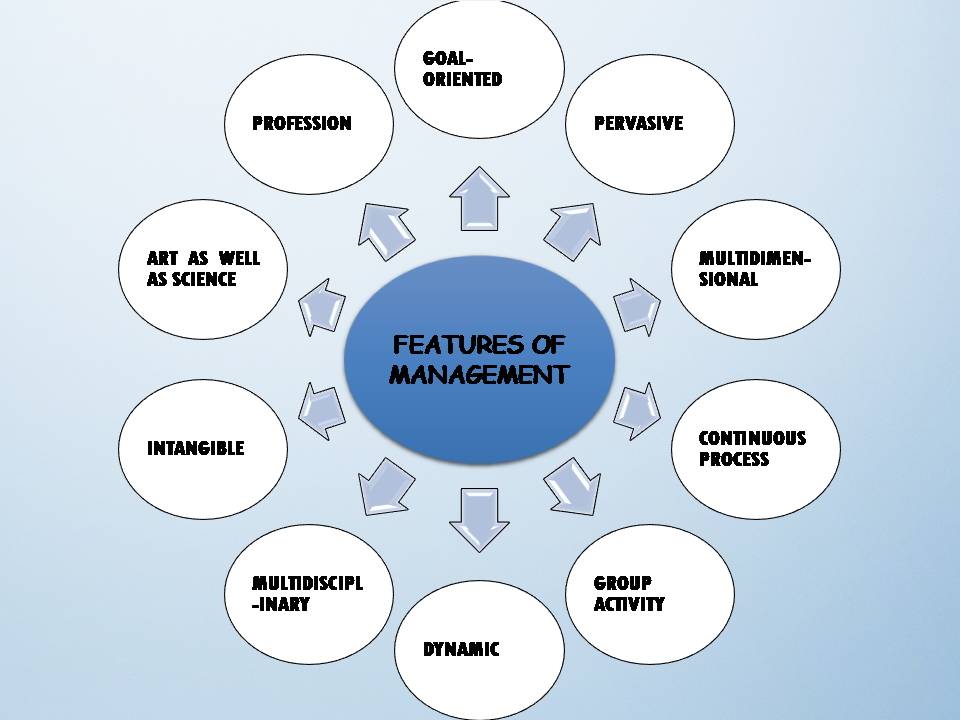 GOAL ORIENTED
It is a goal oriented process. It is concerned with setting the objectives and their achievement. It unites the efforts of the employees of the business firm to achieve the targets effectively and efficiently.
ACCORDING TO THEO HAIMANN
"Effective Management is always Management by Objectives."
ACCORDING TO HAYNES AND MASSIE
"Without objectives management would be difficult, if not impossible."
Thus, it can rightly be said that management aims at establishing and accomplishment of goals.
PERVASIVE IN NATURE
It is pervasive i.e. universal in nature and is applicable to all types of organisations whether it is profit organisation, non-profit organisation, social, religious, sports or military organisation. It is the concept which is used all over the world.
ACCORDING TO HENRY FAYOL
"Be it a case of commerce, politics, religion, war…. In very concern there is management function to be performed."
MULTI-DIMENSIONAL
It does not include any single activity but it includes main three activities: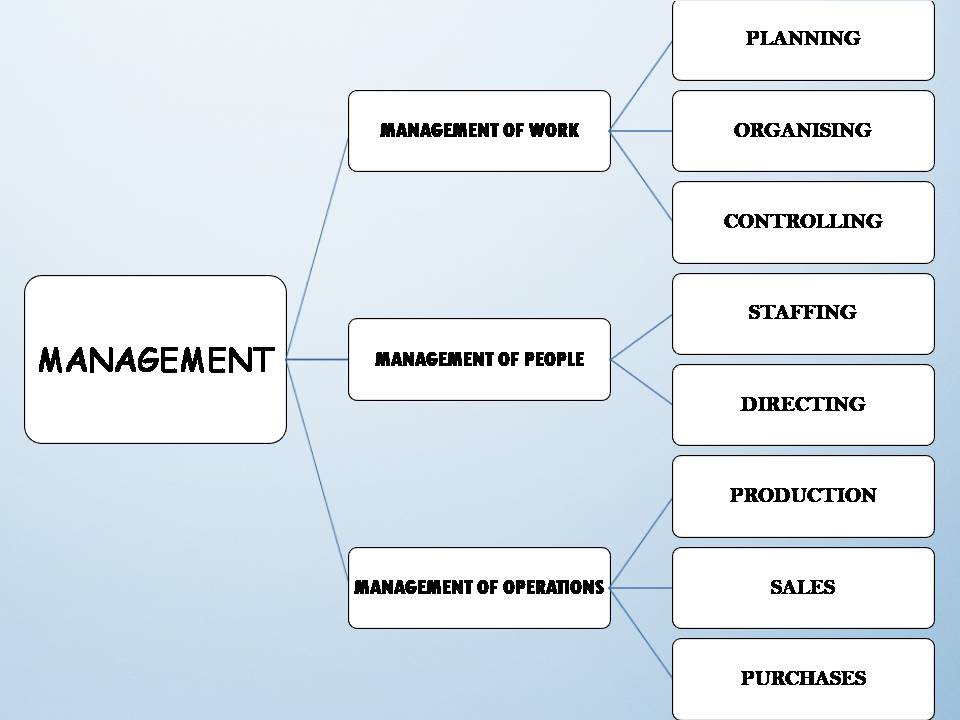 Management of Work: All organisations are set up to perform some task or goal. Its activities aim at achieving goals or tasks to be accomplished. The task or work depends upon the nature of business. For example: Work to be accomplished in a school is providing education, in hospital is to treat a patient, in industry to manufacture some product. It makes sure that work is accomplished effectively and efficiently.
Management of People: People refer to human resources and human resources are the most important assets of the organisation. Management has to get the task accomplished through people by making their strength effective and their weaknesses irrelevant.
Managing People has two dimensions:
Taking care of employee's individual needs.
Taking care of group of people.
Management of Operations: Operations refers to activities of production cycle such as buying inputs, converting them into semi-finished goods, finished goods.
It concentrates on mixing management of work with management of people, i.e., deciding what work has to be done, how it has to be done and who will do it.
CONTINUOUS PROCESS
It is a continuous process or never ending function. It is not an isolated activity. It continues to operate till the organized activities of a group continue to achieve its objectives. It is an ongoing activity without any breaks and gaps. For example: Planning, Organizing, Staffing, Directing and controlling are performed by all the managers all the time. Sometimes, they are doing planning, then staffing, organizing etc. and other times directing or controlling.
GROUP ACTIVITY
It is an essential part of group activity. No one can satisfy his needs or wishes or tasks alone, he unites with his fellow beings to achieve what he cannot achieve individually. Whenever there is an organized group of people working towards a common goal, some type of management becomes necessary. Also it aims at coordinating the efforts of all the employees of the business to achieve the organizational goals. MASSIE has rightly called the management as 'Co-operative Group.'
DYNAMIC FUNCTION
It is a dynamic function. It is concerned with making the business organisation adaptable to the changing market situations. The change in the economic, social, political, technological, demographical environment has a strong bearing on the business operations. The management makes it possible for the employees to get adjusted into the changing situations and make the business organisation survive.
INTANGIBLE
It is an intangible force. It cannot be seen physically or can be touched but its presence can be seen if the goals set are accomplished very well.
MULTIDISCIPLINARY
It is a multidisciplinary approach. It has developed as a separate discipline. But it draws it underlying principles and concepts from sociology, psychology, economics, statistics, operations research etc. It integrates the ideas and concepts from these disciplines and uses them for improving the efficiency of the business. The integration of the knowledge of various fields is the major contribution of management. So, the disciplines concerned with human beings contribute immensely to the management.
A FACTOR OF PRODUCTION
Management is not an end in itself but a means to achieve the group objectives. Just as land, labour and capital are factors of production and are essential for production of goods and services, management is a factor of production that is required to coordinate the factors of production for the accomplishment of pre-determined goals.
A SYSTEM OF AUTHORITY
It is an art of getting things done through others. It is the process of decision making and directing persons to perform the given tasks. The authority to get the work done must be in the hands of the management. It is a rule making and rule enforcing body. Thus, there must be a clar line of authority for the efficient running of an organisation.
AN ART AS WELL AS SCIENCE
It is an art as well as science but not a pure science. It is an art because it requires some specialized skills, expertise and knowledge. It is a science as it has some underlying principles but not a pure science because it does not establish cause and effect relationship.
A PROFESSION
In present days, it is recognized as profession. It has systematic and specialized body of knowledge consisting of principles, techniques and laws and can be taught as a separate subject or discipline. This is making management emerging as a profession.
SOCIAL PROCESS
It is a social process because it involves human beings, employees, employers, government, suppliers and customers etc. For achieving the goal of an enterprise, it is essential for the management to study the complex nature of human beings.