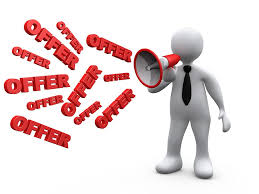 The term offer is synonymous to proposal. It is the starting point in any kind of the agreement or contract.
According to Section 28 of the Indian Contract Act, 1872
"When one person signifies to another his willingness to do or to abstain from doing anything with a view to obtaining the assent of that other to such act or abstinence, he is said to make a proposal."
It implies an offer or a proposal is an expression of will or intention of the parties.
According to Section 2(c) of Indian Contract Act, 1872
"The person who makes an offer is known as Proposer or Offeror or Promisor and the person to whom the proposal or offer is made is known as of the Proposee, Promisee or Offeree.
Example
A offers to sell his motorcycle to B for rupees 3,000. B agrees to pay rupees 3000 to A for the motorcycle. Here A is called offeror or promisor and B is the offeree or promisee.
KINDS OF OFFER IN BUSINESS LAW
There are various kinds of offers or proposal under Indian Contract Act 1872.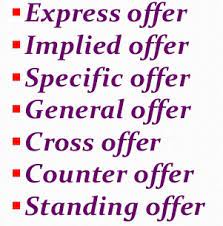 These are mainly categorised on below mentioned basis:
The brief description of the offers are as follows:
HOW MADE?
1. EXPRESS OFFFER
An offer made through oral or written words is an express offer. The oral offer can be made face to face or via telephone. The written offer can be made via text messages, advertisements, letters or emails.
Example
Amar offers Akbar "Will you buy my car for ₹1,00,000 by writing a letter. The offer of Amar is an Express offer.
2. IMPLIED OFFER
An implied offer is one which is not made in words. It may be implied from:
Conduct of the parties
Circumstances of the case
Example
Public telephones in public places offer their services for a certain amount. The offer of these machines is called an implied offer.
TO WHOM MADE
1. GENERAL OFFER/ PROPOSAL
The offer addressed to the public at large is general offer. A General offer may be accepted by any person by performing the conditions of offer. A General offer does not require any communication for its acceptance but is accepted by the conduct of the parties.
CASE: CARLILL VS. CARBOLIC SMOKE BALL COMPANY
A company advertised that a reward of 100 Euros would be given to any person who would suffer from influenza after using the medicines made by the company, if used according to the printed directions. One lady Mrs. Carlill purchased and used the medicine according to the printed directions of the company and suffered from influenza. She file a suit to recover the reward.
The court held that there was a contract as she has accepted a General offer by using the medicine in the prescribed manner as such she was entitled to recover the amount.
2. SPECIFIC OFFER
A specific offer is the one which is made to an individual or a group of individuals. Such an offer can be accepted by the person or persons to whom it is addressed. It means an offer made to:
A particular person, or
A group of persons
Example
William offers to buy a car from Miley for ₹ 10 lacs. It is a specific offer and only Miley can accept it.
OTHER TYPES
1. COUNTER OFFER
When an offeree offers to accept the offer of the offeror, subject to some modifications or changes or conditions, the offer of the offeree is called counter offer.
The counter offer results in a new offer and old offer comes to an end and cannot be revived.
Example
Akash asks Meena: Will you purchase my car for ₹ 1,00,000. Meena replies "I will purchase your car if you sell it for ₹ 75,000." In this case, the resulting offer of Meena is a counter offer.
X offers to sell his cycle to Y for ₹1,000. Y says he will buy it for ₹900. X refuses to sell it. Y again says that he is willing to buy it for ₹1,000. This time X is not bound to sell the bicycle for ₹1,000 because the original offer of ₹1,000 has lapsed and a new offer of ₹1,000 by Y is a counter offer.
Legal effect of Counter offer
Rejection of an original offer
Original offer is lapsed
Counter offer results in new offer
2. CROSS OFFER
Two offers are said to be crossed if:
They are made by the same parties to one another.
Each offer made in ignorance of the offer made by the both parties.
The term and conditions contained in both offers are the same.
In this case, No contract will be created as ones, offer cannot be taken as acceptance by others.
Example
H Road to T offering to sell him 800 tons of coal at ₹ 69 each ton. On the same day T wrote to H letters buy 800 tons of coal at ₹ 69. Their letters crossed in the post. T contended that there was a good contract. Held there was no contract as it was a cross offer.
3. STANDING OFFER
An offer is standing offer if it is intended to remain open for a specified period and can be accepted any time during that period.
When an organization requires large quantities of goods from time, it is usual for the concern to invite tenders, through an advertisement, for the supply of goods or services.
The tender offer is also called Standing offer or Open offer or Continuing offer.
CASE: GREAT NORTHERN RAIL VERSUS WITHAM
A railway company invited tenders for certain iron articles which it might require over a year. Mr. W's tender was accepted. W had to supply the goods to the railway company from time to time as per the orders given by the latter.
The acceptance of the standing offer leads to the agreement that as and when the goods and services are required, and order is placed with the person who submitted tender and each time a distinct or different contract is made.
From the above case, it is clear that when a person offers to another to continuously supply a certain quantity of goods over a certain period and at a definite rate, then the offer is standing offer.