MOTIVATION IN CONSUMER BEHAVIOR
Motivation is reflection of a person's desire to fulfill certain needs. It is the driving force within individuals which impels them to action and that force is known as "motive". Motive may be viewed as "inner force and state of mind" which directs the human activities. Needs are the basis of all modern marketing. The consumer needs is the key for the survival, profitability and growth of a company in this competitive environment.
Motivation is something that moves a person into action and continues him in the course of action enthusiastically. Infact, it represents to the entire class of urges, drives, desires, needs and similar forces.
ACCORDING TO DALE S BEACH
"Motivation can be defined as a willingness to spends energy to achieve a goal or a reward." -Dale. S. Beach
ACCORDING TO CARROL SHARTLE
"Motivation is a reported urge of intention to move in a given direction or to achieve a certain goal."
ACCORDING TO MICHAEL J. JUCIUS
"Motivation is the act of stimulating someone or oneself to get a desired course of action, to push the right button to get the desired reaction."
ACCORDING TO STANLEY VANCE
"An emotion or desire which so changes the will of one individual that he is compelled into action, is motivation."
ACCORDING TO EDWIN B FLIPPO
"Motivation is the process of attempting to influence others to do their work through the possibility of getting a reward."
ACCORDING TO D.E. MC FARLAND
"The concept of motivation is mainly psychological. It relates to those forces operating within the individual employees for subordinates which compel them to act or not to act in certain ways."
Motivation in consumer behavior context refers to the underlying driving forces that lead individuals to act in certain ways and make specific choices when it comes to purchasing goods or services. Motivation is a fundamental concept in understanding why consumers behave the way they do and what influences their decision-making process.
Motivation can be intrinsic or extrinsic. Intrinsic motivation arises from internal desires, needs, and personal satisfaction. For example, a consumer may be motivated to buy a particular product because it aligns with their values or because it satisfies a personal need, such as health or self-expression. Extrinsic motivation, on the other hand, stems from external factors like rewards, social influence, or pressure. For instance, a consumer may be motivated to purchase a product due to discounts, promotional offers, or recommendations from friends or influencers.
Consumer motivation is often driven by various psychological factors, including:
Needs and wants: Consumers are motivated by their basic physiological needs (e.g., food, shelter) as well as higher-level needs like social belonging, self-esteem, and self-actualization.
Goals: Consumers set goals that they strive to achieve, and their motivation to make specific purchases can be tied to those goals. For example, a consumer may buy a gym membership to achieve their goal of becoming healthier.
Perceived benefits: Consumers are motivated to make purchases when they perceive that a product or service will provide them with benefits. These benefits can be functional (e.g., solving a problem, meeting a specific need), emotional (e.g., making them feel happy or confident), or symbolic (e.g., signaling status or identity).
Cognitive processes: Consumers' motivation can be influenced by cognitive processes such as perception, learning, and memory. How consumers perceive and interpret information about a product or brand can significantly impact their motivation to buy it.
Emotions: Emotions play a crucial role in consumer motivation. Positive emotions like excitement or happiness can drive consumers to make impulsive purchases, while negative emotions like fear or guilt can motivate them to seek solutions or remedies.
Understanding consumer motivation is important for marketers and businesses as it helps them design effective marketing strategies, develop products that fulfill consumer needs, and create compelling messages that resonate with their target audience. By identifying and tapping into consumer motivations, businesses can influence consumer behavior and drive purchase decisions.
FEATURES OF MOTIVATION IN CONSUMER BEHAVIOR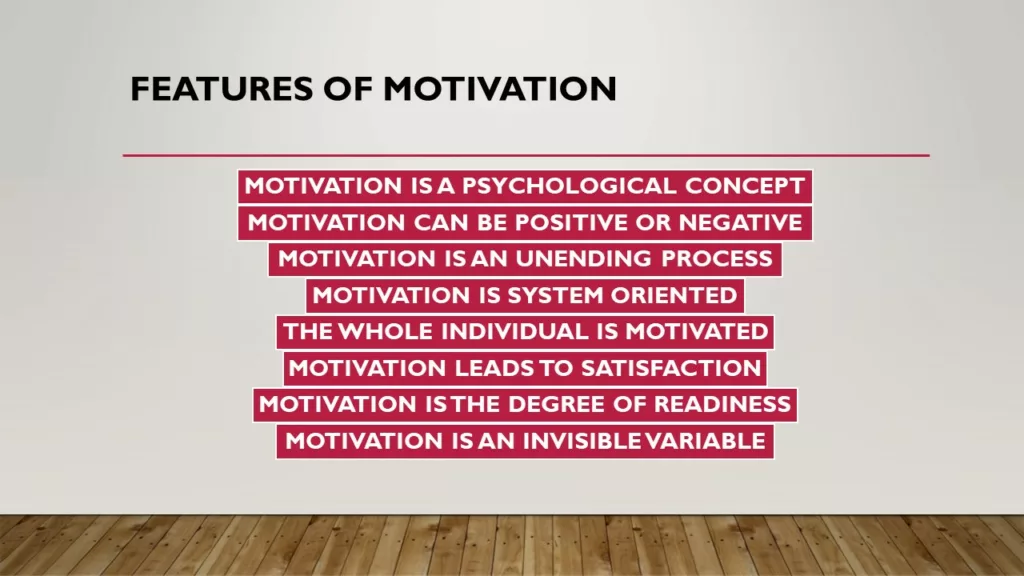 MOTIVATION IS A PSYCHOLOGICAL CONCEPT
Motivation is indeed a psychological concept. It is an area of study within psychology that seeks to understand the processes and factors that energize, direct, and sustain human behavior. Psychologists have long been interested in exploring what drives individuals to initiate and engage in certain actions, as well as what influences the persistence and intensity of those actions.
Motivation is deeply rooted in the workings of the human mind and is influenced by various psychological factors such as needs, desires, goals, beliefs, emotions, and cognitive processes. It involves the interplay between conscious and unconscious processes, as individuals may have both explicit and implicit motivations driving their behavior.
Psychologists have proposed various theories and models of motivation to explain why people act the way they do. Some of the well-known theories include Maslow's Hierarchy of Needs, which suggests that individuals are motivated to fulfill their basic physiological needs before moving on to higher-level needs, and Self-Determination Theory, which emphasizes the importance of intrinsic motivation and the satisfaction of psychological needs for optimal functioning.
Motivation plays a crucial role in several aspects of human behavior, including goal setting, decision-making, learning, achievement, creativity, and well-being. It is central to understanding why individuals pursue certain activities, exert effort, and persist in the face of obstacles. By studying motivation, psychologists aim to gain insights into human behavior and provide practical applications to enhance motivation and promote positive outcomes in various domains of life, such as education, work, sports, and personal development.
Overall, motivation is a fundamental psychological concept that helps us understand the underlying processes that drive and sustain human behavior, allowing us to gain insights into what motivates individuals and how to facilitate positive behavioral change.
MOTIVATION CAN BE POSITIVE OR NEGATIVE
Positive Motivation: Positive motivation refers to the presence of incentives, rewards, or desired outcomes that encourage individuals to engage in certain behaviors. Positive motivation involves the anticipation of achieving something desirable, such as a promotion, recognition, financial gain, personal fulfillment, or a sense of accomplishment. Examples of positive motivation include studying hard to earn good grades, working diligently to receive a performance bonus, or engaging in hobbies that bring joy and satisfaction.
Positive motivation often taps into individuals' intrinsic desires, such as the need for autonomy, competence, relatedness, or self-actualization. It can stem from internal factors like personal interests, values, and aspirations, or external factors like social recognition and praise. Positive motivation tends to foster enthusiasm, engagement, and a sense of purpose.
Negative Motivation: Negative motivation involves the presence of aversive stimuli or consequences that drive individuals to avoid or cease certain behaviors. It arises from the desire to escape or prevent undesirable outcomes, such as punishment, criticism, failure, or loss. Negative motivation can be fueled by fear, anxiety, or discomfort associated with potential negative consequences.
Negative motivation can be useful in certain contexts to prevent or correct undesirable behavior. For example, the fear of failing a test can motivate students to study diligently to avoid a negative outcome. However, excessive reliance on negative motivation, especially when accompanied by fear-based tactics, can lead to stress, decreased well-being, and diminished intrinsic motivation over time.
It's important to note that positive and negative motivation can coexist and interact in complex ways. Individuals may be motivated by a combination of positive and negative factors depending on the situation, personal preferences, and the significance of potential outcomes.
Understanding the interplay between positive and negative motivation is essential for individuals, educators, managers, and marketers alike. By leveraging positive motivation, individuals can tap into their passions and personal goals, leading to greater satisfaction and intrinsic drive. On the other hand, understanding negative motivation can help identify potential barriers, address fears or concerns, and create a supportive environment that encourages positive behaviors.
MOTIVATION IS AN UNENDING PROCESS
Motivation can be considered an unending process in the sense that it is an ongoing and dynamic force that influences human behavior. It is not a one-time event or a fixed state but rather a continuous cycle that involves various factors and can evolve over time.
Here are some key points that highlight why motivation is often seen as an unending process: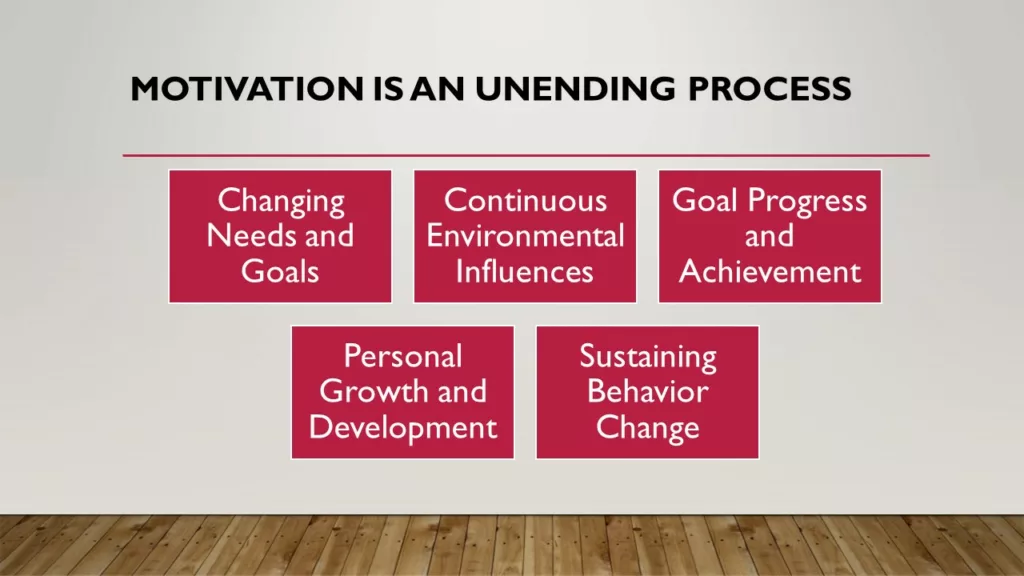 Changing Needs and Goals: Human needs and goals are not static; they can change and evolve over time. As individuals progress in their lives and fulfill certain needs, new needs and goals emerge. For example, someone who has achieved financial stability may shift their focus to personal growth or contributing to society. These evolving needs and goals require continuous motivation to drive behavior and progress towards new objectives.
Continuous Environmental Influences: The environment in which individuals operate is constantly changing, presenting new opportunities, challenges, and stimuli. These environmental factors can influence motivation positively or negatively. External circumstances, social interactions, cultural influences, technological advancements, and market dynamics all play a role in shaping individuals' motivations. Individuals must adapt and respond to these changing environmental influences, which requires an ongoing process of motivation.
Goal Progress and Achievement: Motivation is often associated with goal setting and striving for goals. However, the achievement of one goal does not mean motivation ceases to exist. As individuals accomplish one goal, they may set new goals or expand their aspirations. The pursuit of new objectives requires renewed motivation to maintain momentum and continue making progress.
Personal Growth and Development: Motivation is closely tied to personal growth and development. Individuals strive to improve themselves, learn new skills, acquire knowledge, and enhance their capabilities. This continuous journey of personal growth necessitates ongoing motivation to engage in self-improvement activities, overcome challenges, and reach higher levels of competence.
Sustaining Behavior Change: Motivation is crucial for initiating behavior change, but sustaining that change requires ongoing motivation as well. Whether it is adopting a healthier lifestyle, maintaining new habits, or acquiring new skills, individuals need ongoing motivation to persevere and avoid relapses into old patterns. Without sustained motivation, behavior change efforts are more likely to fade away over time.
While motivation may fluctuate in intensity or focus, it is an ongoing process that continually influences human behavior. It requires regular evaluation, adjustment, and reinforcement to align with changing needs, goals, and environmental factors. Recognizing motivation as an unending process helps individuals understand the need for ongoing self-reflection, goal setting, and engagement in activities that fuel their intrinsic drive and personal fulfillment.
MOTIVATION IS SYSTEM ORIENTED
Motivation being system-oriented means that it is influenced by various internal and external factors within a broader system. These factors include individual beliefs, values, attitudes, social norms, cultural influences, and environmental elements. The system-oriented perspective recognizes that motivation does not occur in isolation but is shaped by the context in which individuals operate.
Motivation is not solely determined by an individual's internal state, but it is also influenced by external factors and interactions within a broader system. These factors can include social, cultural, and environmental influences that impact an individual's motivation.
Social influences play a significant role in shaping motivation. Family, friends, peers, and colleagues can influence an individual's motivation through social expectations, norms, and social support. For example, an individual may be motivated to achieve success due to the expectations and encouragement of their family or peer group.
Cultural influences also impact motivation. Cultural values, traditions, and societal norms shape individuals' motivation by defining what is considered important, desirable, or appropriate within a particular culture. For instance, in some cultures, collectivist values may drive motivation based on social harmony and group success, while individualistic cultures may prioritize personal achievement and autonomy.
Furthermore, the environmental context in which individuals live and work can significantly impact motivation. Environmental factors such as the physical setting, organizational culture, resources, and incentives can either enhance or hinder motivation. For example, a positive and supportive work environment can foster intrinsic motivation, while a highly competitive and stressful environment may negatively impact motivation.
Understanding motivation from a system-oriented perspective allows for a comprehensive examination of the multiple factors that shape and influence individuals' motivations. By considering the broader system in which motivation operates, researchers, educators, and managers can design interventions, strategies, and environments that promote and support individuals' motivation in a more holistic manner.
THE WHOLE INDIVIDUAL IS MOTIVATED
The feature that "the whole individual is motivated" emphasizes that motivation encompasses various aspects of an individual, including cognitive, emotional, and physiological dimensions. It recognizes that motivation is not limited to a single aspect of a person but involves a holistic perspective of their overall being.
Motivation goes beyond simple desire or intent and encompasses the integration of cognitive processes, emotional experiences, and physiological responses. It involves the activation and coordination of multiple aspects of an individual's functioning to drive behavior towards a specific goal or outcome.
Cognitively, motivation involves thoughts, beliefs, and perceptions that influence an individual's desires, goal setting, and decision-making. It includes processes such as expectancy-value judgments, self-efficacy beliefs, and the evaluation of potential rewards or benefits.
Emotionally, motivation is intertwined with the affective experiences and emotional states of individuals. Emotions can serve as powerful motivators, influencing the intensity and persistence of behavior. Positive emotions like excitement, joy, or passion can enhance motivation, while negative emotions like fear or frustration can either hinder or redirect motivation.
Physiologically, motivation is connected to the physiological responses and bodily sensations associated with arousal and energy mobilization. The activation of the autonomic nervous system, hormone release, and changes in physiological states can influence motivation. For example, a surge of adrenaline and increased heart rate can be associated with heightened motivation and readiness for action.
The whole individual being motivated recognizes the interconnectedness of these dimensions and acknowledges that motivation arises from the interplay of cognitive, emotional, and physiological factors. It highlights the importance of considering the full range of an individual's experiences, characteristics, and states when understanding and explaining their motivation.
Taking a holistic approach to motivation allows for a more comprehensive understanding of why individuals engage in certain behaviors, what drives their actions, and how their motivations can be effectively addressed and supported. By considering the whole individual in the study of motivation, researchers, practitioners, and educators can design interventions and strategies that align with individuals' cognitive, emotional, and physiological needs, ultimately fostering more meaningful and sustainable motivation.
MOTIVATION LEADS TO SATISFACTION
Motivation is closely linked to satisfaction, as it often serves as the driving force behind individuals' efforts to achieve their goals or fulfill their needs. When individuals are motivated and successfully attain their desired outcomes, it generally leads to a sense of satisfaction or fulfillment.
Motivation provides individuals with the direction, energy, and perseverance needed to pursue their goals. It helps individuals overcome obstacles, maintain focus, and persist in their endeavors. When individuals are driven by motivation, they are more likely to invest time, effort, and resources into their pursuits, increasing the likelihood of achieving positive outcomes.
When individuals achieve their goals or fulfill their needs, a sense of satisfaction naturally follows. Satisfaction arises from the alignment between individuals' motivations and the outcomes they attain. It is the result of a perceived match between their efforts, aspirations, and the actual results they achieve.
The experience of satisfaction can manifest in different ways. It can be a cognitive evaluation, where individuals assess and perceive that their efforts have paid off and their goals have been accomplished. It can also be an emotional response, with individuals feeling a sense of joy, contentment, or fulfillment upon achieving their desired outcomes.
Satisfaction derived from motivation can have various positive effects. It reinforces individuals' belief in their abilities, enhances their self-esteem, and boosts their overall well-being. It can also serve as a source of intrinsic motivation, as individuals find fulfillment in the process of pursuing and accomplishing their goals.
However, it's important to note that satisfaction is not solely determined by motivation. Other factors such as expectations, personal preferences, and external circumstances can also influence individuals' satisfaction levels. Additionally, individuals' perceptions of success and the meaning they attribute to their achievements can impact their overall satisfaction.
Understanding the relationship between motivation and satisfaction is valuable for individuals, marketers, educators, and organizations. By recognizing the connection between motivation and satisfaction, individuals can align their goals and actions to enhance their overall well-being. Marketers can design products and experiences that fulfill consumers' motivations and enhance their satisfaction. Educators can create learning environments that foster intrinsic motivation and provide opportunities for students to experience satisfaction in their academic pursuits. Ultimately, recognizing the link between motivation and satisfaction can lead to more fulfilling and rewarding experiences in various domains of life.
MOTIVATION IS THE DEGREE OF READINESS
Motivation can be understood as the degree of readiness or preparedness an individual possesses to engage in a particular behavior or pursue a specific goal. It reflects the level of willingness, drive, and commitment an individual has towards taking action.
The degree of readiness in motivation can vary among individuals and even within the same individual across different situations or contexts. It is influenced by a variety of factors, including personal beliefs, values, needs, expectations, and the perceived significance or relevance of the behavior or goal at hand.
Motivation as the degree of readiness involves several key aspects: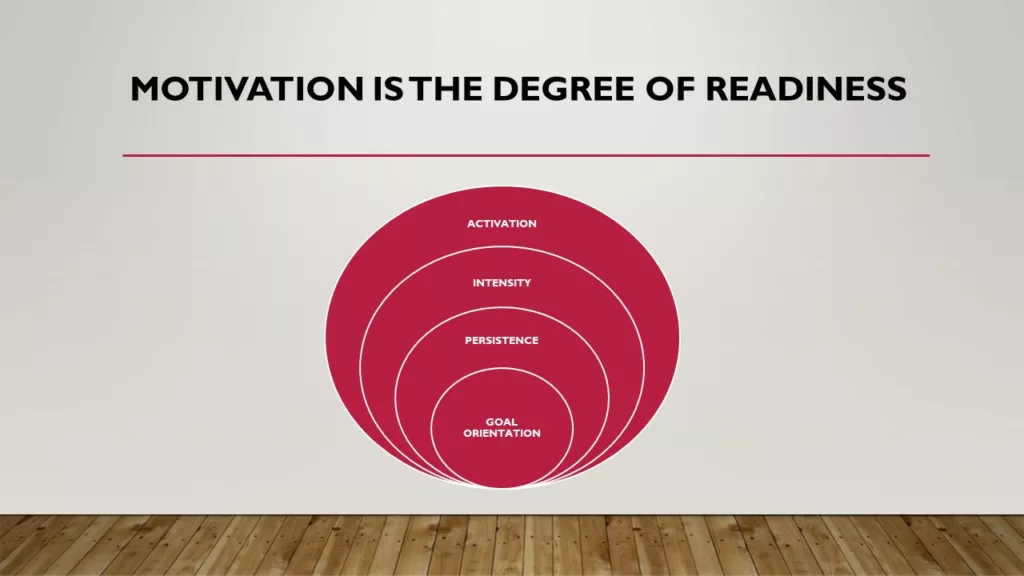 Activation: Motivation initiates and activates behavior. It represents the internal spark that propels individuals into action. When individuals are motivated, they experience a heightened state of readiness to engage in a specific behavior or pursue a particular goal.
Intensity: The intensity of motivation refers to the strength or vigor of an individual's drive and determination. It represents the amount of energy and effort an individual is willing to invest in pursuing the desired outcome. Higher levels of motivation are associated with greater intensity and commitment to the task at hand.
Persistence: Motivation is also associated with persistence, which refers to the ability to sustain effort and stay focused over time. Motivated individuals are more likely to persevere through challenges, setbacks, and obstacles, as their degree of readiness helps them maintain their commitment and resolve.
Goal Orientation: The degree of readiness in motivation is closely tied to goal orientation. It reflects how prepared individuals are to work towards specific objectives or targets. When individuals are motivated, they exhibit a strong readiness to align their actions and efforts with their desired goals.
The degree of readiness in motivation can fluctuate based on various factors, such as changing circumstances, competing priorities, or shifting needs. It can be influenced by internal processes such as self-efficacy beliefs, personal values, and goal clarity, as well as external factors like incentives, social support, and environmental cues.
Recognizing motivation as the degree of readiness highlights the importance of assessing individuals' level of preparedness and commitment when examining their motivation. It helps explain the variations in engagement, effort, and perseverance observed among individuals. By understanding and addressing the degree of readiness, individuals, educators, and organizations can tailor interventions, strategies, and support systems to enhance motivation and promote successful goal attainment.
MOTIVATION IS AN INVISIBLE VARIABLE
Motivation is often referred to as an invisible variable because it cannot be directly observed or measured. Unlike tangible and observable variables such as behavior or physical characteristics, motivation exists within an individual's internal state and cannot be directly perceived by others.
Here are some key points that explain why motivation is considered an invisible variable: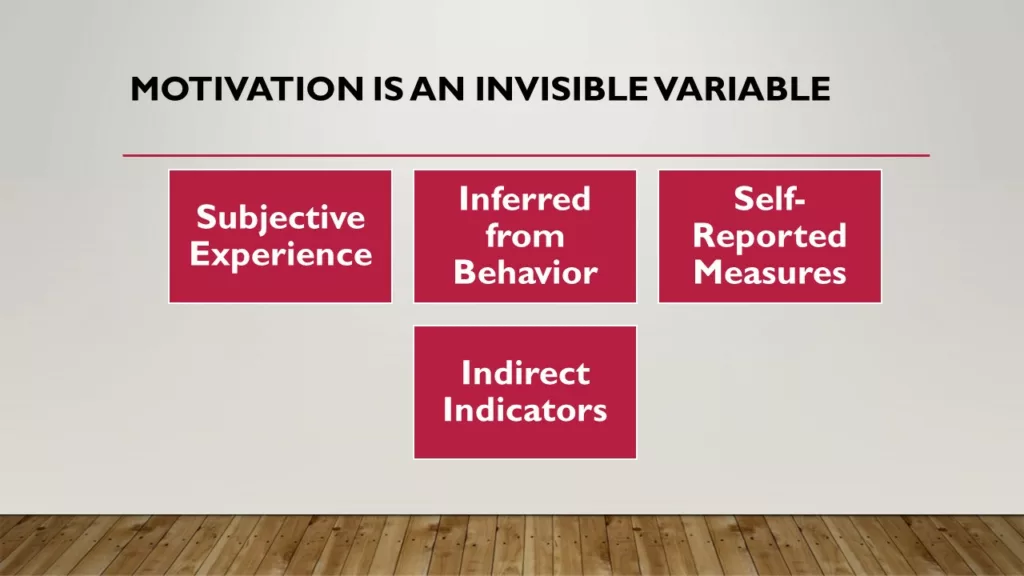 Subjective Experience: Motivation is a subjective experience that occurs within an individual's mind. It involves a complex interplay of thoughts, emotions, and beliefs that drive behavior. Since motivation is an internal phenomenon, it cannot be directly observed by others, making it difficult to assess or quantify objectively.
Inferred from Behavior: While motivation itself cannot be observed directly, it can be inferred from an individual's behavior, choices, and expressions. For example, a person who consistently engages in a particular activity, invests time and effort into pursuing a goal, or displays enthusiasm and persistence can be seen as having high motivation. These behavioral manifestations provide clues about the underlying motivational state.
Self-Reported Measures: To understand motivation, researchers often rely on self-report measures, such as questionnaires or interviews, where individuals report their own levels of motivation and provide insights into their thoughts, desires, and intentions. Self-reported measures are subjective and rely on individuals' ability and willingness to accurately reflect on and express their motivation.
Indirect Indicators: Researchers may also use indirect indicators or proxies to assess motivation. These indicators can include physiological responses, such as heart rate or brain activity, or behavioral indicators like engagement, effort, or goal progress. While these indicators can provide useful information, they do not directly capture an individual's internal motivational state.
The invisibility of motivation poses challenges in studying and understanding it comprehensively. Researchers and practitioners rely on a combination of methods, including self-report measures, behavioral observations, physiological indicators, and qualitative assessments, to gain insights into the motivational processes.
Recognizing motivation as an invisible variable highlights the need for caution and consideration when interpreting and assessing individuals' motivation. It emphasizes the importance of understanding individuals' subjective experiences, beliefs, and desires when studying motivation and tailoring interventions to enhance motivation effectively.