ELEMENTS OF MOTIVATION IN CONSUMER BEHAVIOUR
Motivation is reflection of a person's desire to fulfill certain needs. It is the driving force within individuals which impels them to action and that force is known as "motive". Motive may be viewed as "inner force and state of mind" which directs the human activities. Needs are the basis of all modern marketing. The consumer needs is the key for the survival, profitability and growth of a company in this competitive environment.
Motivation is something that moves a person into action and continues him in the course of action enthusiastically. Infact, it represents to the entire class of urges, drives, desires, needs and similar forces.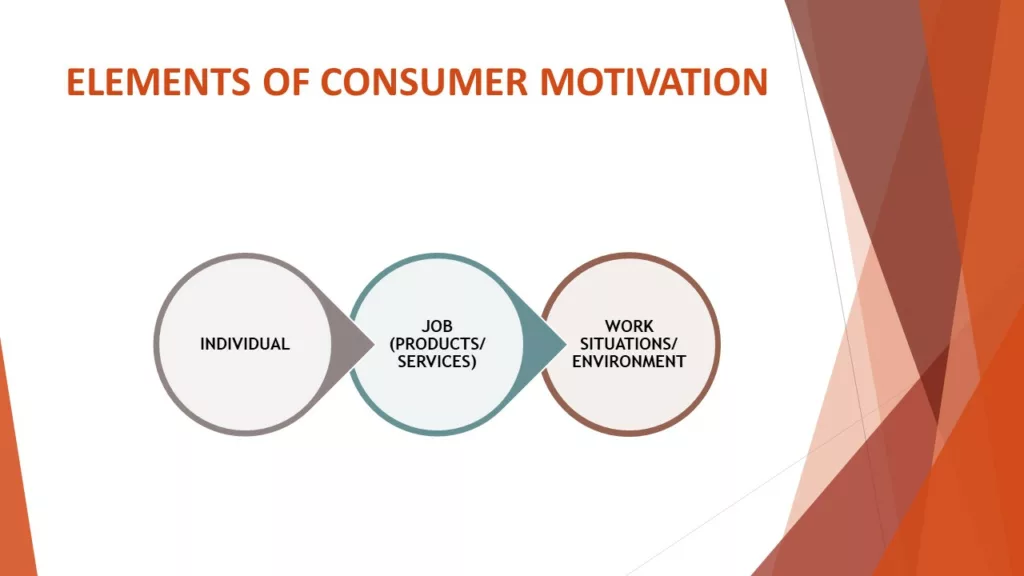 The Individual (Consumer)
In consumer behavior, the individual refers to the consumer, the person who is making purchasing decisions. Each consumer is unique, with their own set of needs, wants, preferences, and values. Understanding the individual's motivations is crucial for marketers and businesses to tailor their products, marketing messages, and overall brand experience to resonate with the target audience.
For example, some consumers may be motivated by the desire for convenience, while others may prioritize environmental sustainability or seek products that enhance their self-esteem. By understanding the individual consumer's motivations, businesses can create more personalized and compelling offers that align with the consumers' specific needs and desires.
It is generally seen that every consumer, employee, or individual is different from other employees or human beings in terms of their ability, intelligence, attitude needs, like dislikes, temperament, nature, preferences, ideology, and social and economic background being different in nature.
So, every employee or customer must be motivated in different way. While motivating employee you being as officer see what are the needs of your employees which they desire to be fulfilled. When you would be fulfilling their desire/needs they are found to be motivated-An employee can be only motivated by satisfying his unsatisfied needs. In case of customer the fulfilments of needs and satisfaction is of high importance. He would only be motivated when he gets goods and services worth of his money, time and efforts spend. In the process of purchase customer's motivation is the basis of every action.
The Job (Product/Service)
In the employee motivation context, the job refers to the work environment and the tasks employees perform. In consumer behavior, the equivalent of "the job" would be the product or service being offered by the business. Just as the job should provide employees with a sense of purpose, challenge, and fulfilment, products and services should fulfil consumers' needs and wants.
Consumers are motivated to make purchases when they perceive that a product or service can effectively solve their problems or fulfil their desires. The features, benefits, and value proposition of the product or service should align with the individual consumer's motivations, making the offering attractive and compelling.
In case of customers; he tries to satisfy his "Physiological and Psychological needs through the consumption of goods and services." Physiological motive is oriented towards satisfying needs like hunger, thirst, and sex. There are basic needs and are present in all individuals whereas psychological needs are concerned the customer's satisfaction which he gets from seeking of achievements, affiliation, or status. It is also found that both these needs can be satisfied at the same time.
The Environment (Marketplace)
In employee motivation, the environment includes the work culture, organizational policies, and external factors that influence job satisfaction. In consumer behavior, the environment relates to the marketplace and external factors that influence consumer decisions.
The marketplace environment encompasses various external influences, such as economic conditions, cultural factors, social trends, technological advancements, and competitors' actions. For example, during a recession, consumers may be motivated to prioritize cost-saving measures and look for budget-friendly options. In a market where sustainability is a growing concern, consumers may be motivated to choose eco-friendly products. Understanding the impact of the external environment on consumer motivations can help businesses anticipate shifts in consumer behavior and adapt their strategies accordingly. By staying informed about market trends and consumer preferences, businesses can proactively tailor their offerings to meet changing demands and remain competitive.
Motivation has got a direct link with the working conditions, situations, and environment. If an employee or a customer would be getting these things in a comfortable manner that is going to motivate him. The management should provide healthy working conditions consisting of good packages of financial and managerial incentives. Poor working conditions lead to dissatisfaction and reduces the moral and motivation of the work.
In fact, these factors are applicable so in case of customer. At present customer wants "shopping under one Roof" and expecting a special treatment in form of highly comfortable environment as one can find in big "Mall" and "Multi story shopping complex". Customer of today do not mind spending more money if he gets all these facilities. Provide good services and environment and charge high customers do not mind.
Overall, the three elements of motivation (the individual, the job/product, and the environment/marketplace) provide valuable insights for businesses seeking to understand consumer behavior and develop effective marketing strategies that resonate with their target audience.