CONSUMER BUYING ROLES
Consumer buying roles are an integral part of the purchasing process, involving the different roles individuals play when making buying decisions. Understanding these roles helps businesses and marketers effectively target their products and services to meet the needs and preferences of consumers. By recognizing the various roles and their influence, businesses can tailor their marketing strategies and messages to resonate with the specific individuals involved in the buying process. The following are the various roles of consumer in respect to his buying behavior: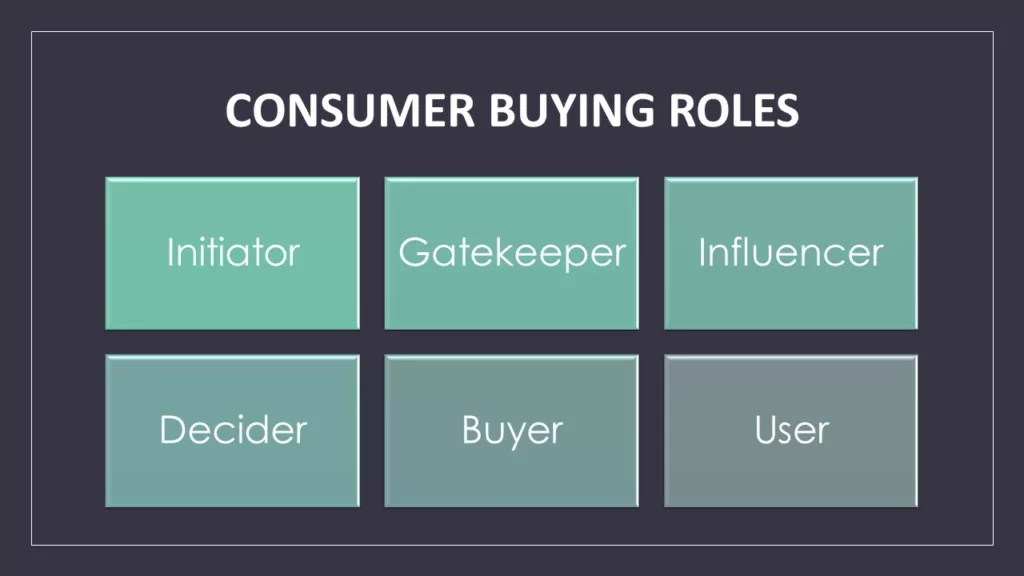 INITIATOR
As an initiator in the consumer buying process, one's role involves recognizing a need or desire for a particular product or service. Initiator is the one who starts the buying process by identifying a problem or an opportunity that can be addressed through a purchase.
Recognizing the Need or Desire: Initiators are often motivated by personal needs, wants, or aspirations. You identify a gap or a potential improvement in your life that can be fulfilled by acquiring a specific product or service. For example, you may realize that you need a new laptop for work or that you desire a vacation to relax and rejuvenate.
Identifying Opportunities: Initiators can also be influenced by external factors, such as new product releases, advertising, or recommendations from friends and family. You may come across an advertisement, an article, or a conversation that sparks your interest and prompts you to consider a purchase.
Researching Options: Once the need or desire is identified, initiators typically engage in information gathering and research. You seek out information about available options, compare features, prices, and reviews, and explore various sources to make an informed decision. This research phase helps you understand what is available in the market and evaluate which product or service is the most suitable for your needs.
Influencing Others: As an initiator, you may also play a role in influencing others in their purchasing decisions. Your recommendations, experiences, and insights can shape the perceptions and choices of your friends, family, or colleagues. Your opinion can carry weight and influence their decision-making process.
Triggering the Buying Process: Your recognition of a need or desire sets the wheels in motion for the entire buying process. Your initiation prompts further actions, such as information gathering, evaluation, and eventual purchase.
GATEKEEPER
In the context of consumer buying roles, the gatekeeper is not typically associated with the consumer's role. The term "gatekeeper" is more commonly used in the business-to-business (B2B) buying process, where a gatekeeper is an individual or group that controls the flow of information or access to decision-makers within an organization.
Gatekeeper could refer to someone who controls or filters the information and options that reach the decision-maker or the buyer within a consumer household. This role is often performed by a family member or trusted advisor who screens and influences the choices presented to the decision-maker.
The gatekeeper may be responsible for conducting initial research, narrowing down options, and providing recommendations to the decision-maker based on their understanding of the decision-maker's preferences and needs. They act as a filter, ensuring that only relevant and suitable choices are considered by the decision-maker.
For example, in a family setting, a gatekeeper could be a parent who filters through various options for purchasing a new car and presents a shortlist of suitable choices to the decision-maker, such as the spouse or the child.
INFLUENCER
The role of an influencer refers to individuals who have the power to shape the opinions, preferences, and purchasing decisions of others. Influencers are often seen as trusted sources of information and recommendations.
Expertise and Knowledge: Influencers typically possess a certain level of expertise or knowledge in a specific area, such as beauty, fashion, technology, fitness, or food. They actively engage in exploring and sharing information about products, trends, and industry developments.
Content Creation: Influencers create and share content across various platforms, including social media, blogs, videos, and podcasts. They provide valuable insights, product reviews, tutorials, recommendations, and other engaging content that resonates with their audience.
Authenticity and Trust: Successful influencers build trust and credibility with their audience by being authentic and transparent. They are known for their genuine opinions, unbiased reviews, and a consistent voice that aligns with their personal brand.
Engaging and Growing Audience: Influencers actively interact with their followers and cultivate a community around their content. They respond to comments, provide guidance, and establish a sense of connection and engagement with their audience. They also work on growing their reach and attracting new followers through collaborations, partnerships, and content strategies.
Collaboration with Brands: Influencers often collaborate with brands to promote products or services that align with their niche and audience. These collaborations may involve sponsored content, brand partnerships, or affiliate marketing, where the influencer receives compensation or incentives for promoting specific products.
Impact on Purchasing Decisions: One of the key roles of an influencer is to influence the purchasing decisions of their followers. By sharing their experiences, recommendations, and opinions about products or services, influencers can sway consumer preferences and drive sales.
DECIDER
The decider is the individual who holds the ultimate responsibility for making the final buying decision. This role involves evaluating options, considering various factors, and choosing which product or service to purchase.
Gathering Information: The decider actively seeks out information about different products or services that can fulfill the identified need or desire. They may conduct online research, read reviews, compare features and prices, and gather relevant information to make an informed decision.
Considering Factors: Deciders take into account various factors when evaluating options. These factors may include price, quality, brand reputation, functionality, performance, warranties, customer reviews, personal preferences, and any other relevant criteria specific to the product or service category.
Weighing Trade-offs: In some cases, the decider may need to make trade-offs between different options. They consider the benefits and drawbacks of each choice and determine which factors are most important in their decision-making process.
Involving Influencers: While the decider holds the ultimate decision-making authority, they may also consider the opinions and recommendations of influencers or other trusted individuals. Influencers can provide insights, advice, or personal experiences that can influence the decider's evaluation of options.
Budgeting and Affordability: The decider also considers their budget and affordability when making a purchasing decision. They assess whether the chosen product or service fits within their financial means and aligns with their perceived value or return on investment.
Long-term Implications: Deciders may also consider the long-term implications of their decision. They evaluate factors such as durability, maintenance requirements, potential future needs, and the overall value the product or service will provide over time.
BUYER
The buyer refers to the individual who completes the transaction by purchasing the chosen product or service. The buyer's role involves executing the actual purchase and acquiring the desired item.
Selecting a Vendor or Retailer: The buyer decides where to make the purchase. They may choose to buy from a physical store, an online retailer, or directly from the manufacturer or service provider. The buyer considers factors such as convenience, price, reputation, availability, and customer service when selecting a vendor.
Negotiating Terms: Depending on the circumstances, the buyer may engage in negotiations with the seller. This could involve negotiating the price, delivery terms, payment methods, warranties, or any other terms and conditions associated with the purchase.
Completing the Transaction: The buyer is responsible for the actual purchase transaction. They provide the necessary payment, whether it's in the form of cash, credit/debit card, or other payment methods accepted by the seller. The buyer ensures that the transaction is completed smoothly and accurately.
Verifying and Inspecting the Product: Upon receiving the product or service, the buyer may verify its quality, quantity, and condition. They may inspect the item for any defects or discrepancies and ensure that it matches the expectations set during the decision-making process.
Resolving Issues or Returns: If any issues arise with the purchased product or service, the buyer may be involved in resolving them. This could include contacting customer service, seeking a refund or replacement, or following the appropriate procedures for returns or exchanges.
The buyer's role is closely linked to the decision-maker role, as the buyer executes the final decision made during the evaluation process. However, it's important to note that in some cases, the decision-maker and buyer may be different individuals. For example, a parent may make the final decision on a product, but the actual purchase may be carried out by a family member or the intended user.
USER
The user refers to the individual who actually utilizes or consumes the purchased product or service. The user's role involves experiencing and benefiting from the product or service after it has been acquired.
Product or Service Utilization: The user actively engages with and utilizes the purchased product or service according to its intended purpose. For example, if the purchase is a smartphone, the user would use its features, make calls, browse the internet, and use various applications.
Evaluating Performance: The user assesses the performance and functionality of the product or service based on their needs and expectations. They may consider factors such as ease of use, reliability, durability, effectiveness, efficiency, and overall satisfaction with the user experience.
Providing Feedback: Users often provide feedback on their experience with the product or service. This feedback can be shared through online reviews, surveys, customer feedback forms, or direct communication with the seller or manufacturer. User feedback helps businesses understand the strengths and weaknesses of their offerings and make improvements if necessary.
Recommending or Discouraging: Users may share their positive experiences and recommendations with others, which can influence their purchasing decisions. Word-of-mouth recommendations from satisfied users can significantly impact the perception and reputation of a product or service. Similarly, users may also discourage others from purchasing or using products or services that did not meet their expectations.
Influencing Future Purchases: The user's experience with a particular product or service can influence their future buying decisions. Positive experiences may lead to repeat purchases or loyalty towards a brand, while negative experiences may result in seeking alternatives or avoiding similar products or services in the future.