CONSUMER BEHAVIOR ISSUES
Consumer behaviour process is an ongoing process, not merely what happens at the moment a consumer hands over money and in turn receives goods and services. It is long decision process. It contains some Pre-purchase issues, Purchase issues and Post- purchase issues. As shown in model some of the issues that are addressed during each stage of the consumption process.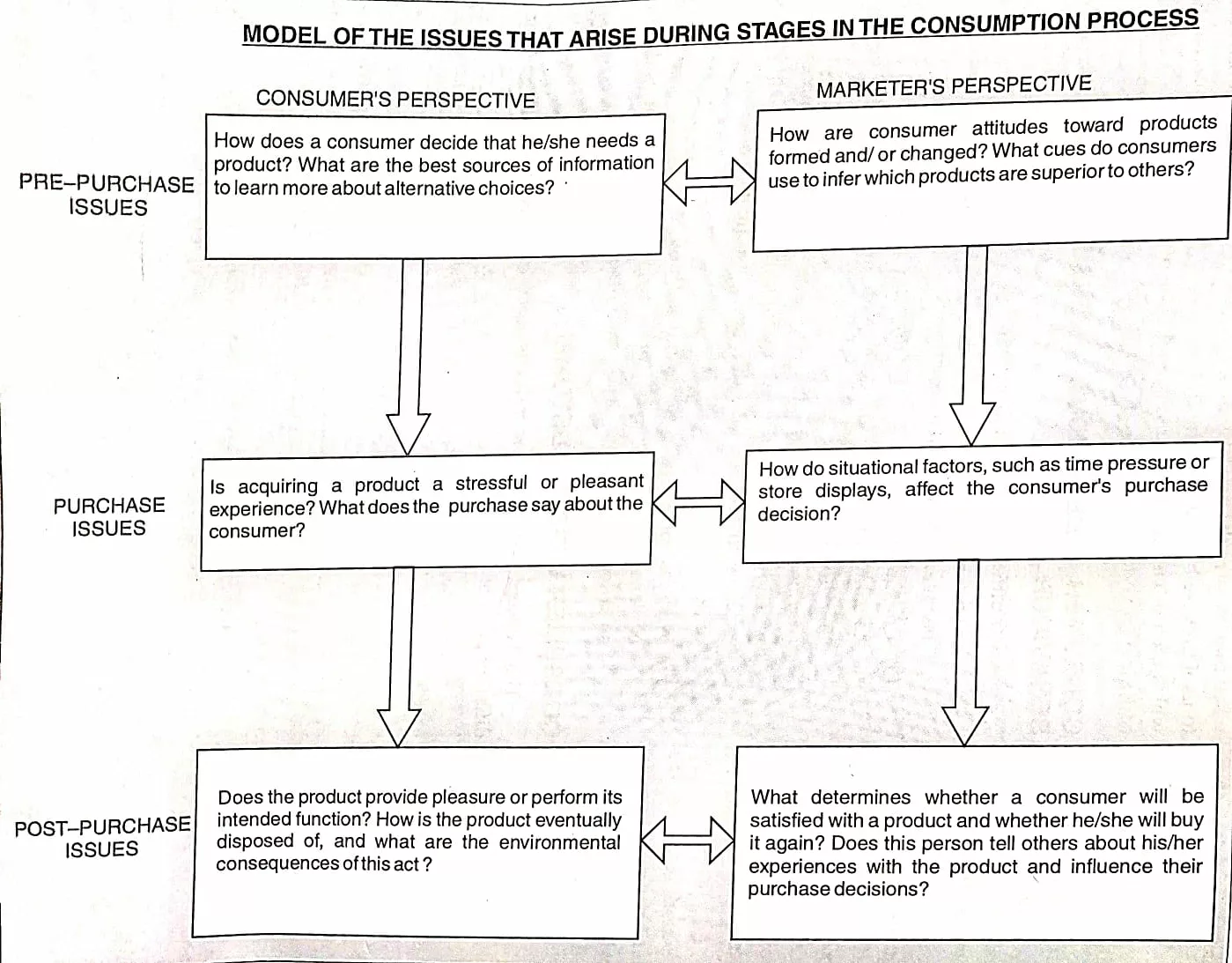 I PRE-PURCHASE ISSUES
It can be seen through Consumer's perspective and Market's perspective.
(a) In Consumer perspective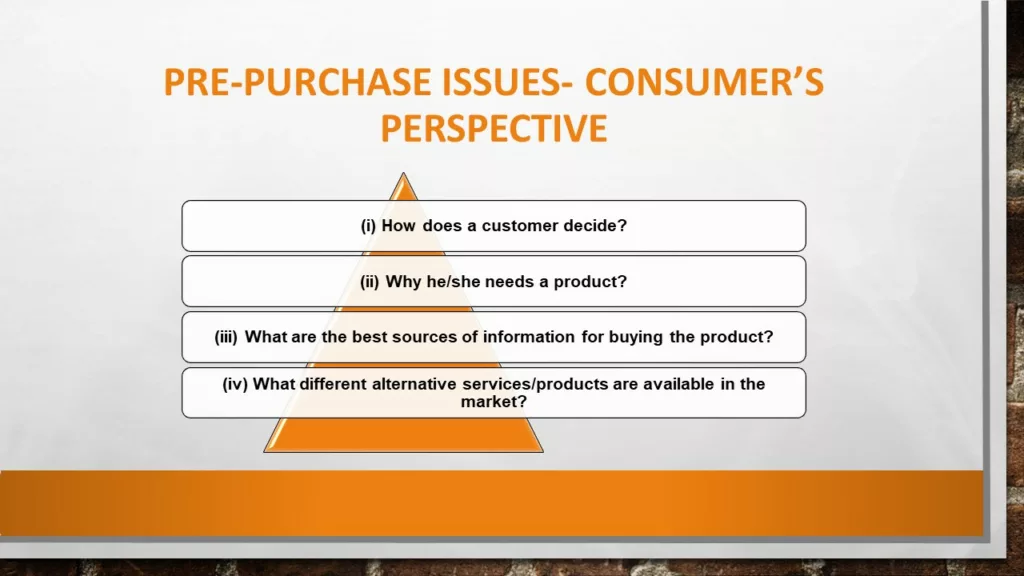 (i) How does a customer decide?
When making a purchase decision, customers go through a decision-making process that involves several stages. These stages can include problem recognition (identifying a need or want), information search (gathering information about available options), evaluation of alternatives (comparing different products or services), purchase decision (selecting a specific product or service), and post-purchase evaluation (assessing the satisfaction with the chosen product or service).
(ii) Why he/she needs a product?
Customers may have various reasons for needing a product. It could be based on functional needs (e.g., fulfilling a specific task or solving a problem), social needs (e.g., fitting in or meeting social expectations), psychological needs (e.g., boosting self-esteem or achieving personal satisfaction), or situational needs (e.g., responding to an immediate requirement or opportunity).
(iii) What are the best sources of information for buying the product?
Consumers rely on different sources of information when making purchase decisions. These can include personal sources (such as family, friends, or colleagues), commercial sources (such as advertising, salespeople, or company websites), public sources (such as consumer reports, reviews, or ratings), experiential sources (such as trying out a product or service), or situational sources (such as the physical environment or point-of-purchase displays).
(iv) What different alternative services/products are available in the market?
Consumers have access to a wide range of alternative services and products in the market. These alternatives can differ in terms of features, quality, price, brand reputation, packaging, availability, and other attributes. Customers evaluate these alternatives based on their needs, preferences, and the perceived value they offer.
(b) In Marketer's Perspective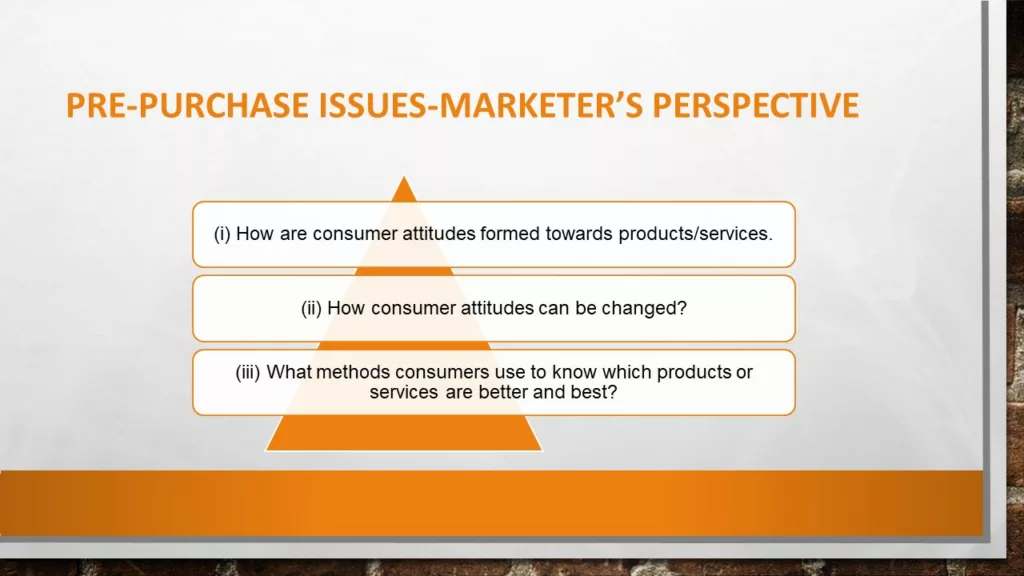 (i) How are consumer attitudes formed towards products/services.
Consumer attitudes towards products or services are formed through a combination of factors, including personal experiences, social influences, marketing communications, and cultural or societal influences. Positive experiences, effective marketing strategies, word-of-mouth recommendations, and aligning with customers' values and needs can contribute to the formation of favorable attitudes.
(ii) How consumer attitudes can be changed?
Consumer attitudes can be changed through various strategies, such as persuasive advertising, public relations efforts, celebrity endorsements, influencer marketing, product demonstrations, offering incentives or discounts, improving product features or quality, addressing customer complaints or concerns, and creating positive brand experiences. Building trust, providing accurate information, and appealing to customers' emotions or aspirations are also commonly used techniques.
(iii) What methods consumers use to know which products or services are better and best?
Consumers employ several methods to assess the quality and superiority of products or services. These methods include seeking information from trusted sources, reading online reviews and ratings, comparing features and prices, conducting research online, seeking recommendations from friends or family, trying out samples or free trials, and relying on their own previous experiences with similar products or brands. Social media platforms, online forums, and professional critics or experts also play a role in influencing consumer opinions and judgments.
II. PURCHASE ISSUES
These are those issues or aspects which are seen at the time of making final purchase decision has got different purchase. If has also got consumer as well as marketer's perpectives.
(a) In Consumer Perspective: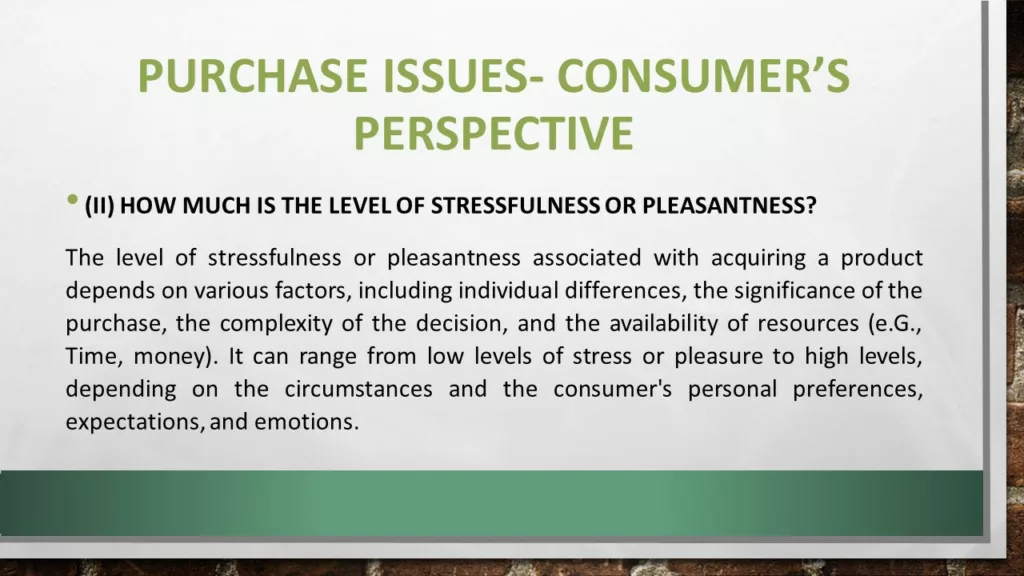 (i) Is acquiring a product a stressful or a pleasant experience and how much?
The experience of acquiring a product can vary among consumers. For some individuals, acquiring a product can be a pleasant experience, especially when it fulfills their needs, desires, or brings them joy. However, for others, it can be a stressful experience due to factors such as financial constraints, decision-making difficulties, or concerns about making the wrong choice.
(ii) How much is the level of stressfulness or pleasantness?
The level of stressfulness or pleasantness associated with acquiring a product depends on various factors, including individual differences, the significance of the purchase, the complexity of the decision, and the availability of resources (e.g., time, money). It can range from low levels of stress or pleasure to high levels, depending on the circumstances and the consumer's personal preferences, expectations, and emotions.
(iii) What does the purchase say about the consumer?
The purchase decisions made by consumers can provide insights into their preferences, needs, values, and lifestyle. It can reflect their personality traits, social status, cultural influences, and even their self-image or identity. For example, purchasing eco-friendly products may indicate an individual's concern for the environment, while luxury brand purchases may reflect aspirations for status or exclusivity. In some cases, purchases can also be driven by external factors such as social pressure or conformity.
(b) In Market Perspective: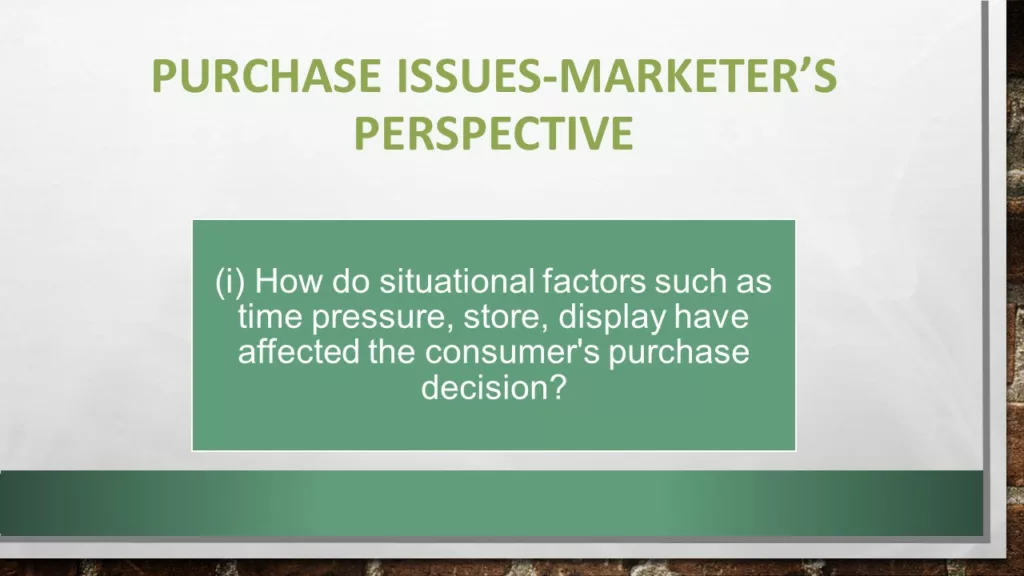 (i) How do situational factors such as time pressure, store, display have affected the consumer's purchase decision?
Situational factors, such as time pressure, store environment, and product display, can significantly influence consumer purchase decisions. Time pressure may lead consumers to make quicker decisions or choose familiar brands or products to save time. The store environment, including factors like layout, music, lighting, and scent, can create a certain ambiance that affects consumer mood, perception, and purchasing behavior. Product displays, such as attractive packaging, prominent positioning, or eye-catching visuals, can grab consumers' attention, enhance product appeal, and influence their decision-making process.
These situational factors can impact consumers' perceptions of product quality, convenience, trustworthiness, and overall shopping experience. They can also evoke emotional responses and shape consumer preferences and choices. Marketers strategically utilize these factors to create a favorable shopping environment and enhance the likelihood of consumers making a purchase.
III. POST-PURCHASE ISSUES
If reflects all those issues/problems good or bad experience faced by the consumer after making the final purchase.
(a) In Consumer Perspective: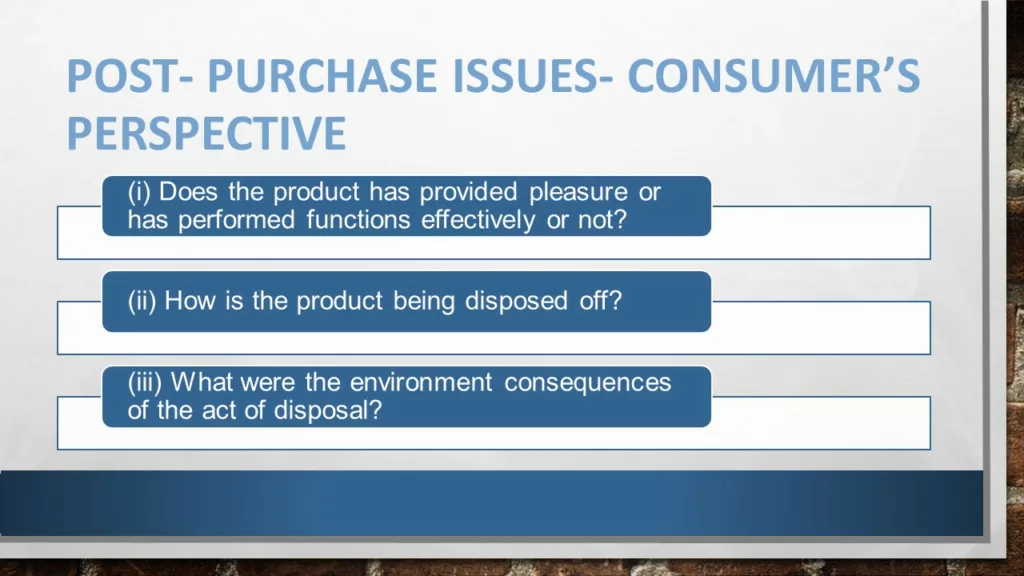 (i) Does the product has provided pleasure or has performed functions effectively or not?
After purchase, consumers assess whether the product meets their expectations and provides pleasure or effectively performs its intended functions. If the product meets or exceeds expectations and delivers the desired benefits, consumers are likely to experience satisfaction. Conversely, if the product falls short in terms of performance, quality, or meeting expectations, consumers may feel dissatisfaction.
(ii) How is the product being disposed off?
Post-purchase, consumers may need to consider how to dispose of the product once it reaches the end of its useful life. This can involve recycling, donating, reselling, or disposing of it in an appropriate manner, depending on the nature of the product and local regulations. Proper disposal practices contribute to environmental sustainability.
(iii) What were the environment consequences of the act of disposal.
The disposal of a product can have environmental consequences. Consumers may consider whether the product is recyclable or biodegradable, and if not, how its disposal may impact the environment. Responsible disposal practices help minimize negative environmental effects and contribute to sustainability.
(b) In Market Perspective: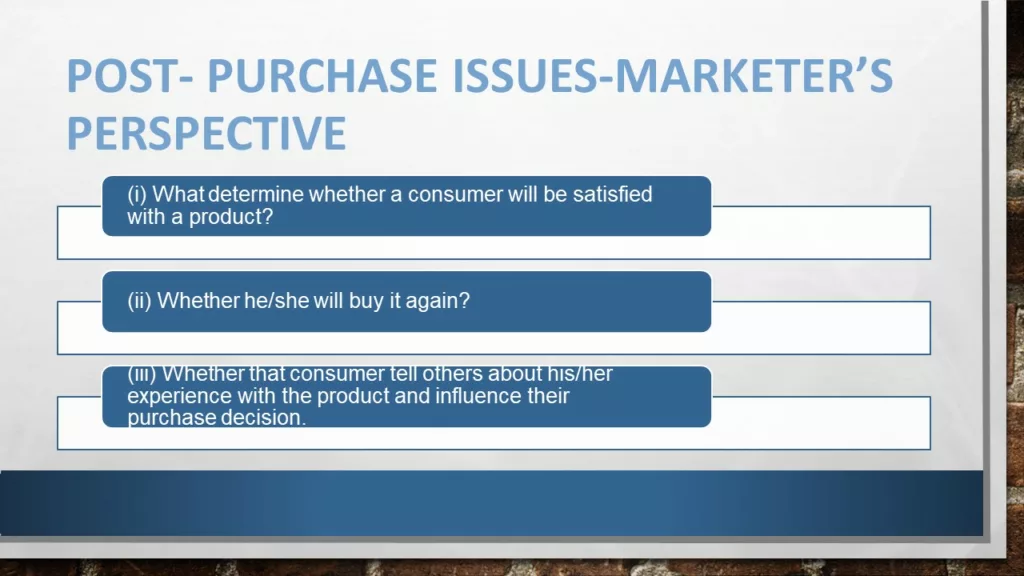 (i) What determine whether a consumer will be satisfied with a product?
Consumer satisfaction is influenced by various factors. These include the product's quality, performance, durability, functionality, value for money, and how well it meets the consumer's needs and expectations. Customer service, post-purchase support, and overall shopping experience also play a role in determining satisfaction.
(ii) Whether he/she will buy it again?
Repeat purchase behavior is influenced by consumer satisfaction. If a consumer is satisfied with a product, they are more likely to exhibit loyalty and make future purchases. Positive experiences and perceived value can lead to brand or product loyalty and repeat buying, while dissatisfaction may result in a loss of future sales.
(iii) Whether that consumer tell others about his/her experience with the product and influence their purchase decision.
Word-of-mouth communication is a significant factor in consumer behavior. If a consumer has a positive experience with a product, they may share their satisfaction with others, leading to positive word-of-mouth and potential influence on others' purchase decisions. On the other hand, negative experiences may result in negative word-of-mouth, potentially discouraging others from buying the product. Marketers aim to create positive post-purchase experiences to foster positive word-of-mouth and enhance brand reputation.
CONSUMER BEHAVIOR ISSUES- EXAMPLES
Consumer behavior issues refer to challenges or concerns that arise in relation to how consumers make decisions, interact with products or services, and engage in the marketplace. Here are some examples of consumer behavior issues:
Product quality and safety: Consumers may be concerned about the quality and safety of products they purchase, especially in industries such as food, pharmaceuticals, and electronics. Issues like product recalls, misleading labeling, or substandard manufacturing can impact consumer trust and influence their buying decisions.
Brand loyalty and switching behavior: Consumers' loyalty to specific brands can be influenced by various factors, such as product performance, customer service, brand reputation, or competitive offerings. Companies must understand consumer motivations to maintain loyalty and address issues that may lead to brand switching.
Pricing and affordability: Price sensitivity and affordability are critical factors in consumer decision-making. If products or services are perceived as overpriced or unaffordable, consumers may seek alternatives or delay their purchases. Pricing strategies, discounts, and promotions play a significant role in influencing consumer behavior.
Online shopping experience: With the growth of e-commerce, consumers face issues related to the online shopping experience. These may include concerns about privacy and security of personal information, trust in online retailers, ease of navigation, and delivery reliability. These factors can impact consumer behavior and their willingness to engage in online transactions.
Sustainability and ethical considerations: Increasingly, consumers are concerned about the environmental and social impact of their purchases. Issues such as sustainable sourcing, fair trade practices, eco-friendly packaging, and corporate social responsibility can influence consumer behavior and their choice of products or brands.
Information overload and decision-making complexity: Consumers are often inundated with a vast amount of information and choices, which can lead to decision-making challenges and cognitive overload. Companies must simplify information, provide clear value propositions, and offer personalized recommendations to help consumers make informed decisions.
Social influence and peer recommendations: Consumers are influenced by the opinions and recommendations of their peers, family, and online communities. Issues related to fake reviews, influencer marketing authenticity, and biased recommendations can impact consumer behavior and their trust in these sources.
Customer service and post-purchase support: Consumer satisfaction extends beyond the initial purchase. Issues related to customer service, warranty claims, returns, and post-purchase support can greatly impact consumer behavior, loyalty, and advocacy.
These examples demonstrate the diverse range of consumer behavior issues that companies and marketers need to consider in order to understand and address the needs and expectations of their target consumers.