SOCIOLOGICAL DETERMINANTS OF CONSUMER BEHAVIOR
Consumer behavior is influenced not only by individual preferences and psychological factors but also by sociological determinants that stem from the broader social environment. Sociological determinants of consumer behavior encompass the impact of social structures, cultural values, reference groups, social class, and other societal factors on individuals' buying decisions and consumption patterns. These determinants shape consumer behavior by influencing individuals' perceptions, attitudes, and norms surrounding products and brands.
Understanding the sociological determinants is crucial for businesses and marketers to effectively connect with their target audience, adapt to social influences, and tailor their marketing strategies to align with the social dynamics that influence consumer preferences and behaviors. By exploring the sociological aspects of consumer behavior, businesses can gain insights into the societal factors that shape consumer choices, enabling them to develop more effective marketing strategies and enhance their competitive advantage in the marketplace.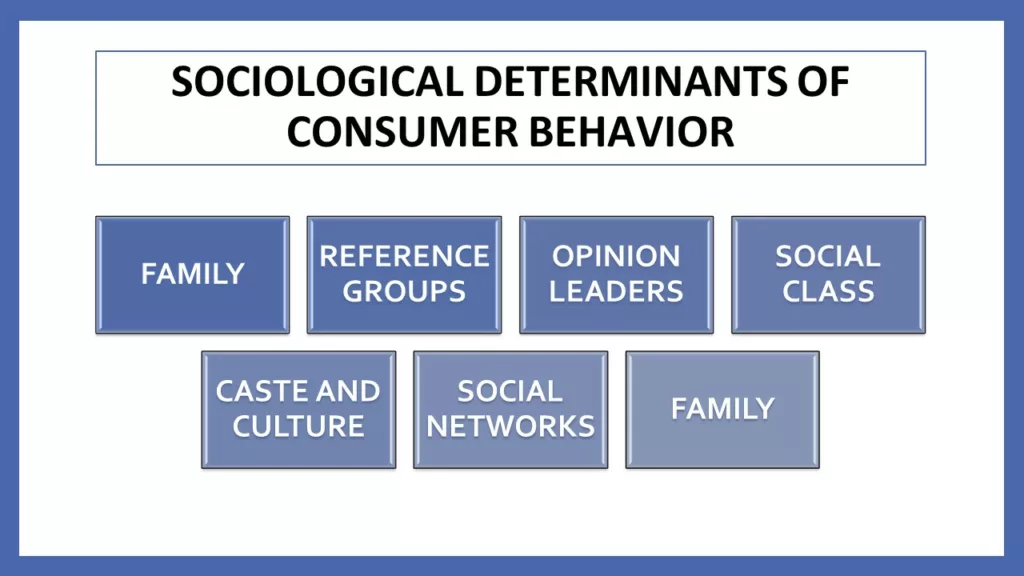 FAMILY
Family, as a sociological determinant of consumer behavior, plays a significant role in shaping individuals' buying decisions, consumption patterns, and overall consumer behavior. The family unit, which includes immediate family members living together, as well as extended family members, influences individuals' preferences, attitudes, values, and consumption habits through various mechanisms.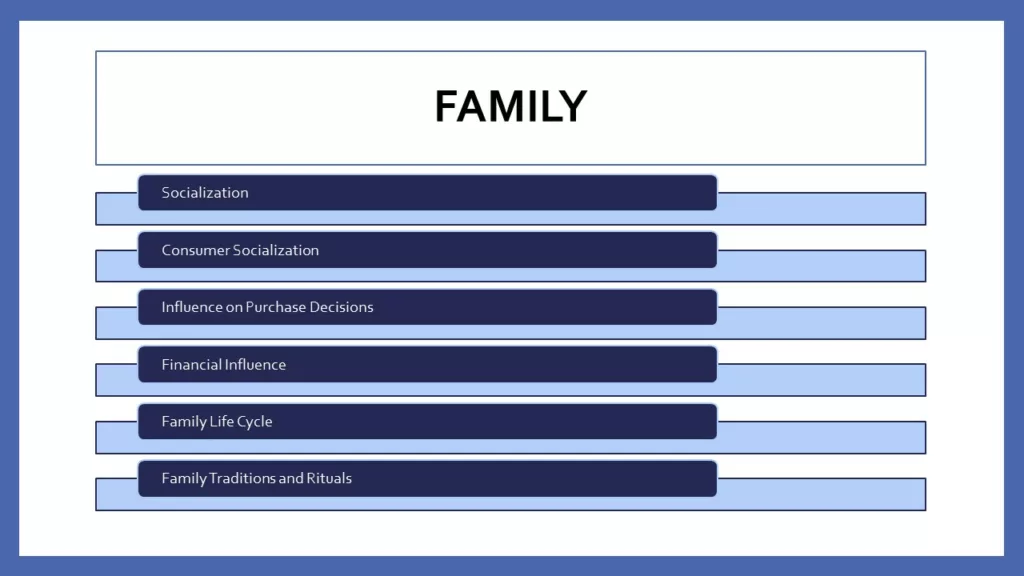 Socialization: Family serves as the primary agent of socialization, transmitting cultural values, norms, and behaviors to individuals. From a young age, individuals learn about consumption patterns, brand preferences, and product choices within their family environment. Family members act as role models, influencing the development of consumer attitudes, beliefs, and behaviors.
Consumer Socialization: Family members contribute to the process of consumer socialization, which involves acquiring knowledge, skills, and attitudes related to consumer behavior. Children learn about shopping habits, budgeting, product evaluation, and decision-making by observing and participating in family consumption activities. Family influences shape the development of brand loyalty, product preferences, and the formation of shopping habits.
Influence on Purchase Decisions: Family members, particularly parents, exert influence on purchase decisions, especially for products and services that are shared or used by the entire family. Family members consult each other, seek advice, and make joint decisions, taking into account the needs, preferences, and opinions of other family members. The family unit can influence the choice of brands, product categories, and even the timing of purchases.
Financial Influence: The family's economic resources and financial situation significantly impact consumer behavior. The family's income, budgeting practices, and financial priorities influence spending patterns and consumption decisions. Family financial constraints or affluence shape the affordability, value-seeking behavior, and luxury consumption within the family.
Family Life Cycle: The stage of the family life cycle also affects consumer behavior. Different life stages, such as being single, getting married, having children, or becoming empty nesters, influence individuals' consumption needs, preferences, and priorities. Marketers often target specific family life stages with tailored marketing messages and product offerings.
Family Traditions and Rituals: Family traditions, rituals, and celebrations influence consumption patterns. Holidays, birthdays, family gatherings, and cultural events often involve specific consumption behaviors, such as gift-giving, special meals, or purchasing traditional items. These family-related occasions influence consumer behavior, driving specific product demands and creating opportunities for marketers to target these moments.
Understanding the influence of family as a sociological determinant of consumer behavior helps businesses and marketers tailor their marketing strategies and product offerings to align with family values, needs, and preferences. By considering family dynamics, marketers can develop family-oriented marketing campaigns, packaging, pricing strategies, and communication channels that resonate with different family segments. Furthermore, recognizing the role of family in consumer behavior helps businesses identify and tap into the power of word-of-mouth recommendations, family influence networks, and the social dynamics that shape consumer choices within the family context.
REFERENCE GROUPS
Reference groups, as a sociological determinant of consumer behavior, refer to the social groups to which individuals compare themselves and seek guidance in their purchasing decisions. These groups influence consumer behavior through various channels, including direct advice, social influence, and the formation of norms and values. Understanding reference groups is essential for businesses and marketers as they can leverage these groups to shape consumer preferences, attitudes, and purchasing decisions.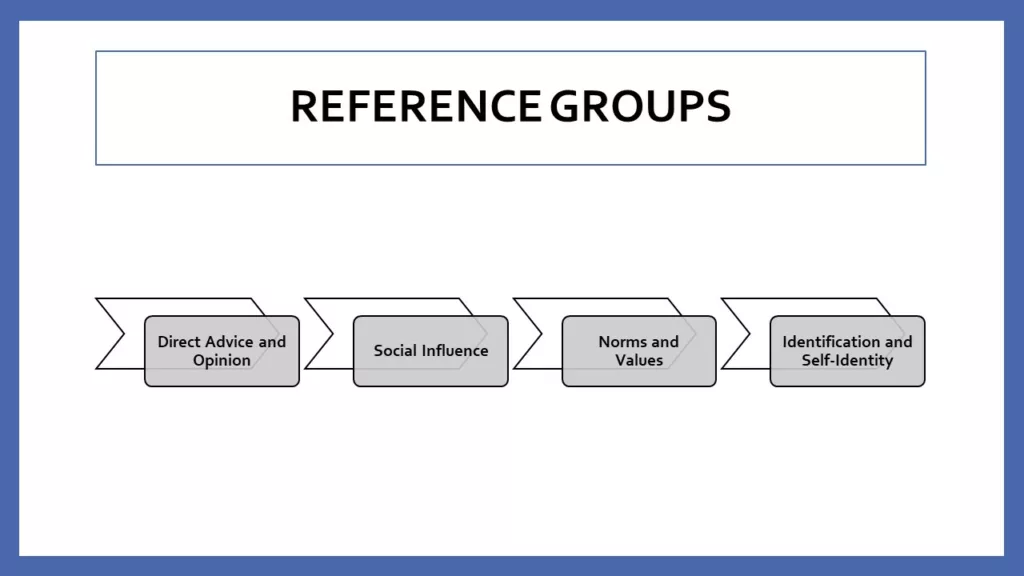 Direct Advice and Opinion: Reference groups provide individuals with direct advice, recommendations, and opinions about products and brands. Family, friends, colleagues, and online communities are examples of reference groups that individuals consult when making purchase decisions. Positive or negative recommendations from reference group members can significantly influence consumer choices and perceptions.
Social Influence: Reference groups exert social influence on consumer behavior through conformity and aspirational motivations. Conformity refers to individuals' desire to conform to the norms and expectations of their reference group to gain acceptance and avoid social rejection. Aspirational motivations arise from the desire to emulate or be associated with a desirable reference group. Individuals may adopt the preferences, behaviors, and consumption patterns of their reference group to gain social approval and enhance their self-image.
Norms and Values: Reference groups play a role in shaping consumer norms and values. These groups establish standards and expectations regarding appropriate behavior, product choices, and lifestyle preferences. Individuals often conform to the norms and values of their reference groups, aligning their consumption patterns with those of the group. Marketers can tap into these norms and values by positioning their products or brands as fitting within the reference group's standards or by creating aspirational messages that align with the group's values.
Identification and Self-Identity: Reference groups contribute to individuals' self-identity and sense of belonging. Individuals often associate themselves with specific reference groups that reflect their desired self-image or social identity. For example, a person may identify as a "fitness enthusiast" and seek products or brands that align with that identity. Marketers can target reference groups by creating marketing messages and product offerings that resonate with the group's desired self-identity, helping individuals express their affiliation and strengthen their social connections.
By understanding reference groups as a sociological determinant of consumer behavior, businesses and marketers can design effective marketing strategies that leverage the power of social influence and tap into consumers' desire for affiliation and acceptance. Marketers can identify relevant reference groups for their target audience, create marketing campaigns that resonate with the values and aspirations of these groups, and utilize social proof and testimonials to influence consumer behavior.
OPINION LEADERS
Opinion leaders, as a sociological determinant of consumer behavior, are individuals who possess expertise, knowledge, or social influence within specific social groups or communities. They play a crucial role in shaping the attitudes, opinions, and purchasing decisions of others. Opinion leaders are considered influential sources of information and recommendations, and their impact on consumer behavior can be significant.
Here are some key aspects of opinion leaders as a sociological determinant of consumer behavior: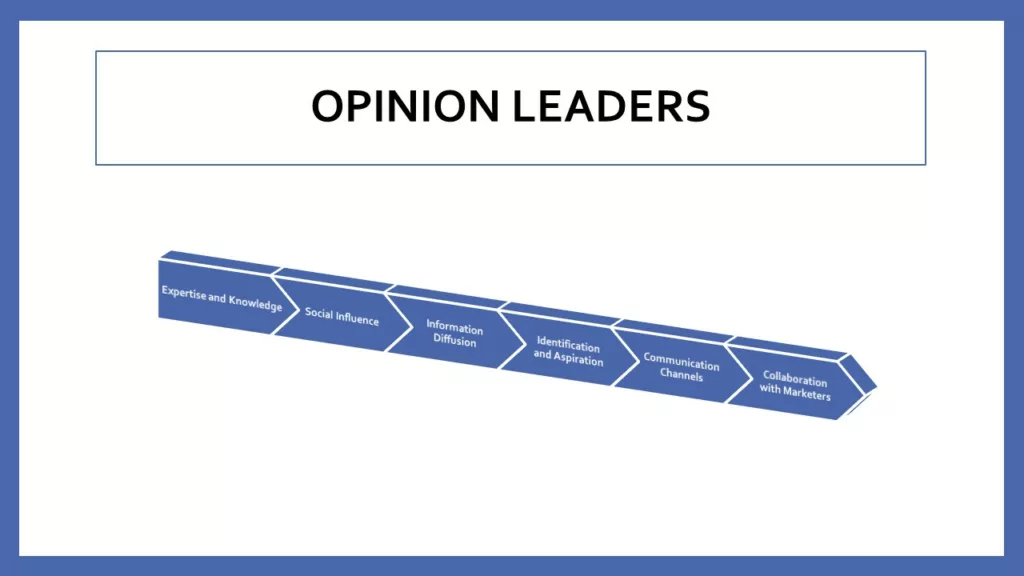 Expertise and Knowledge: Opinion leaders are recognized for their expertise and knowledge in a particular domain or industry. They are seen as credible sources of information and advice, which leads others to trust their opinions and recommendations. Their expertise can stem from professional qualifications, experience, or extensive knowledge in a specific area.
Social Influence: Opinion leaders have a strong influence on the attitudes, opinions, and behaviors of others within their social groups or communities. They possess social status, respect, and followership, which allows them to shape the beliefs, preferences, and purchasing decisions of their followers. Their recommendations carry weight and are often seen as reliable and trustworthy.
Information Diffusion: Opinion leaders serve as channels for the diffusion of information within their social networks. They are early adopters and trendsetters who are often the first to discover and share information about new products, services, or trends. Their recommendations and endorsements can lead to the spread of information and influence the adoption of certain products or brands by others.
Identification and Aspiration: Opinion leaders often embody characteristics or values that are admired and aspired to by others. Individuals within their social groups may identify with or aspire to be like the opinion leaders, seeking validation and approval from them. This identification and aspiration can influence consumer behavior as individuals strive to align their choices with the preferences and recommendations of the opinion leaders.
Communication Channels: Opinion leaders communicate their opinions and recommendations through various channels, both offline and online. They may share their views through face-to-face interactions, social gatherings, online forums, blogs, social media platforms, or other digital channels. Their presence in these communication channels allows them to reach and influence a wide audience.
Collaboration with Marketers: Marketers often collaborate with opinion leaders as part of their marketing strategies. This collaboration can take the form of influencer marketing, where opinion leaders endorse or promote specific products or brands to their followers. Marketers recognize the impact of opinion leaders on consumer behavior and leverage their influence to enhance brand awareness, credibility, and customer engagement.
Understanding opinion leaders as a sociological determinant of consumer behavior allows businesses and marketers to identify influential individuals within target social groups or communities. By collaborating with opinion leaders, marketers can harness their influence to build brand advocacy, generate positive word-of-mouth, and increase brand visibility. Additionally, marketers can leverage the insights and recommendations of opinion leaders to refine their product offerings, marketing messages, and communication strategies to better align with the preferences and needs of the target audience.
SOCIAL CLASS
Social class, as a sociological determinant of consumer behavior, refers to the hierarchical divisions within society based on economic, occupational, and educational factors. It plays a significant role in shaping individuals' buying decisions, consumption patterns, and overall consumer behavior. Social class influences consumer behavior through various mechanisms, including purchasing power, aspirations, lifestyle choices, and consumption preferences.
Here are some key aspects of social class as a sociological determinant of consumer behavior: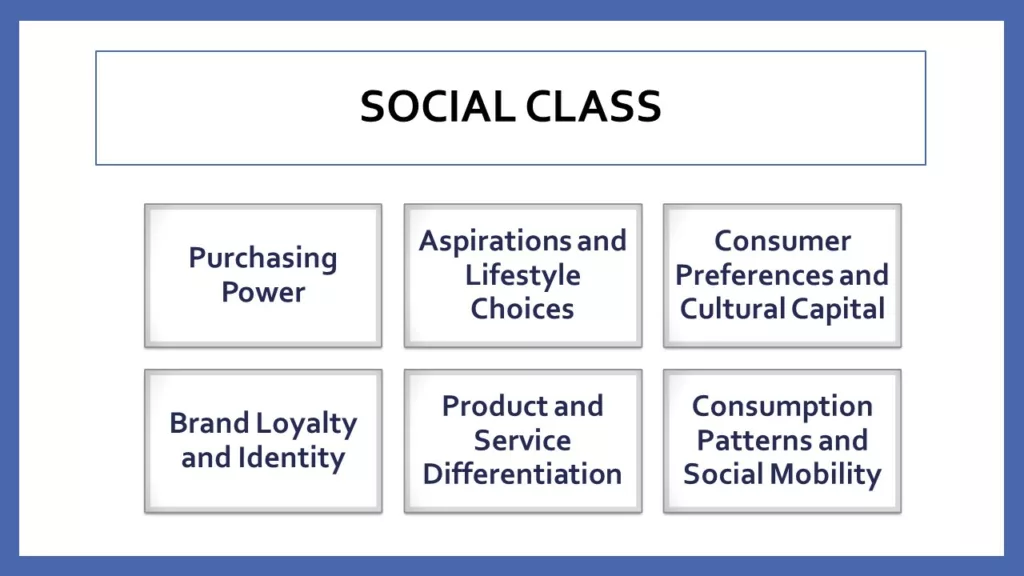 Purchasing Power: Social class is closely associated with individuals' income and wealth, which directly impact their purchasing power. Higher social classes generally have greater financial resources and can afford higher-priced products, luxury goods, and premium brands. On the other hand, lower social classes may have limited financial resources and are more likely to seek value-oriented or budget-friendly options.
Aspirations and Lifestyle Choices: Social class influences individuals' aspirations and desired lifestyles. Different social classes often have distinct preferences, values, and consumption goals. Higher social classes may prioritize status symbols, luxury experiences, and exclusivity, while lower social classes may focus more on practicality, durability, and affordability. These aspirations and lifestyle choices shape the types of products, brands, and experiences that individuals seek and are willing to invest in.
Consumer Preferences and Cultural Capital: Social class is associated with the accumulation of cultural capital, which includes knowledge, tastes, and preferences acquired through education, exposure, and socialization. Different social classes develop distinct preferences for certain types of products, aesthetics, cultural experiences, and consumption practices. Marketers often target specific social classes by aligning their products, branding, and marketing messages with the cultural capital and preferences of those classes.
Brand Loyalty and Identity: Social class can influence brand loyalty and the formation of consumer identity. Individuals from certain social classes may develop strong brand affiliations and loyalty to specific brands that align with their social class values, aspirations, or desired self-image. Brands that cater to specific social classes can help individuals express their social identity and reinforce their sense of belonging within their class.
Product and Service Differentiation: Social class differences can drive product and service differentiation in the marketplace. Marketers often tailor their offerings, pricing strategies, distribution channels, and communication messages to appeal to specific social classes. This differentiation may include creating affordable options for lower social classes, offering premium or luxury products for higher social classes, or adapting marketing campaigns to resonate with the values and lifestyles of different social classes.
Consumption Patterns and Social Mobility: Social class can also influence consumption patterns and the potential for social mobility. Consumption choices, such as education, housing, and lifestyle expenditures, can impact individuals' ability to move up or down the social class ladder. For example, investing in education or luxury goods may be seen as a means of upward social mobility, while financial constraints and limited access to certain products or services can hinder social mobility.
Understanding social class as a sociological determinant of consumer behavior helps businesses and marketers segment their target markets effectively and tailor their marketing strategies to align with the preferences, values, and aspirations of different social classes. By considering social class dynamics, businesses can develop pricing strategies, product offerings, and communication messages that resonate with specific social classes, enhancing customer engagement, brand perception, and overall market success.
CASTE AND CULTURE
Caste and culture, as sociological determinants of consumer behavior, have a significant influence on individuals' buying decisions, consumption patterns, and overall consumer behavior. These determinants are deeply rooted in social structures and cultural norms, shaping individuals' preferences, values, and consumption practices.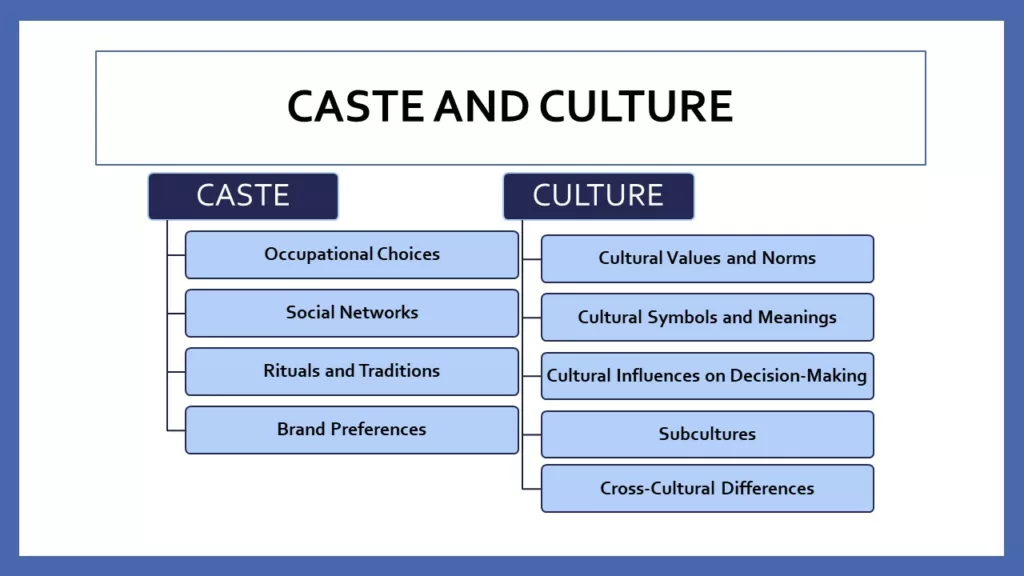 Caste: Caste refers to the hereditary social divisions that exist in certain societies, particularly in South Asia. Caste influences consumer behavior in the following ways:
Occupational Choices: Caste often determines an individual's occupation or profession, which can significantly impact their income, social status, and purchasing power. Different occupational groups may have distinct consumption patterns and preferences based on their caste-related occupations.
Social Networks: Caste plays a role in the formation of social networks and social interactions. Individuals often have stronger connections and affiliations with others from the same caste. These social networks can influence consumer behavior through word-of-mouth recommendations, shared cultural practices, and adherence to caste-specific consumption norms.
Rituals and Traditions: Caste is intertwined with religious and cultural practices. Caste-related rituals, festivals, and traditions often involve specific consumption behaviors and offerings. Individuals may follow caste-specific customs and engage in consumption practices that are associated with their caste-related rituals.
Brand Preferences: Caste can influence brand preferences and loyalty. Certain brands or products may be associated with specific castes, and individuals may show a preference for these brands as a way of expressing their caste identity or social belonging.
Culture: Culture refers to the shared beliefs, values, customs, traditions, and behaviors of a particular group or society. Cultural factors have a profound impact on consumer behavior:
Cultural Values and Norms: Cultural values and norms shape individuals' attitudes, preferences, and behaviors related to consumption. Cultural values such as individualism, collectivism, materialism, or environmental consciousness influence the types of products, brands, and consumption practices that individuals embrace or reject.
Cultural Symbols and Meanings: Culture assigns meanings and symbols to products and brands. Certain products may have cultural significance or symbolic associations that influence consumer behavior. For example, certain foods, clothing, or artifacts may be deeply rooted in cultural traditions and hold symbolic value for individuals.
Cultural Influences on Decision-Making: Culture plays a role in shaping individuals' decision-making processes. Cultural factors, such as the importance of conformity, uncertainty avoidance, or risk aversion, can influence how individuals evaluate and make choices regarding products, services, or brands.
Subcultures: Within a broader culture, subcultures exist based on factors such as ethnicity, religion, or regional identity. Subcultures have their own unique consumption patterns, preferences, and cultural practices. Marketers often target specific subcultures with tailored marketing strategies that resonate with their cultural values and preferences.
Cross-Cultural Differences: Consumer behavior varies across different cultures. Cultural factors such as communication styles, concepts of time, or attitudes toward authority influence how marketers should approach international markets. Understanding cultural differences is essential for businesses to adapt their marketing strategies and ensure cultural sensitivity.
Understanding caste and culture as sociological determinants of consumer behavior allows businesses and marketers to recognize the diverse factors that influence consumer preferences, attitudes, and consumption patterns. By considering caste and cultural dynamics, businesses can develop marketing strategies that align with these social and cultural influences, effectively engage with target audiences, and create offerings that resonate with their values, traditions, and identities.