PSYCHOLOGICAL DETERMINANTS OF CONSUMER BEHAVIOR
Consumer behavior is influenced by a myriad of factors, including psychological determinants that play a crucial role in shaping individuals' preferences, attitudes, and purchasing decisions. Understanding these psychological determinants is essential for businesses and marketers seeking to connect with consumers on a deeper level and influence their behavior effectively.
The psychological determinants encompass various internal processes, motivations, perceptions, and beliefs that guide individuals' decision-making process. By delving into the intricacies of these determinants, businesses can gain valuable insights into the minds of their target audience and design marketing strategies that resonate with their psychological needs and desires.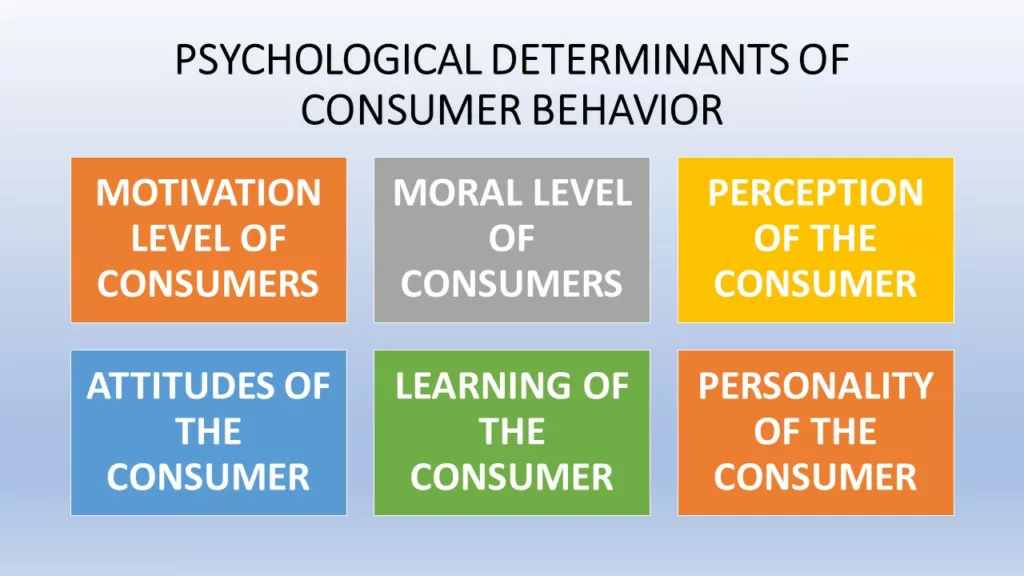 MOTIVATION LEVEL OF CONSUMERS
Motivation, as a psychological determinant of consumer behavior, refers to the internal factors that drive individuals to engage in specific behaviors, including purchasing decisions. It encompasses the underlying needs, desires, and goals that influence consumer actions.
Motivation can be categorized into two main types:
Intrinsic Motivation
Extrinsic Motivation.
Intrinsic motivation arises from internal factors and personal enjoyment. It is driven by the desire for self-expression, autonomy, personal growth, and the fulfillment of psychological needs. For instance, a consumer might be intrinsically motivated to purchase a book because they genuinely enjoy reading and seek intellectual stimulation.
Extrinsic motivation, on the other hand, stems from external factors and social influences. It is driven by the desire for social approval, status, rewards, or tangible outcomes. Consumers may be extrinsically motivated to buy a particular product to gain recognition, conform to societal expectations, or obtain a specific reward or incentive.
MORAL LEVEL OF CONSUMERS
Another psychological determinant of consumer behavior is the moral level of consumers. Moral level refers to an individual's ethical beliefs, values, and principles that guide their decision-making process. Consumers' moral levels can vary, influencing their preferences, attitudes, and purchase decisions. Some individuals may prioritize ethical considerations when making purchases, such as avoiding products that are harmful to the environment, supporting fair trade, or boycotting companies that engage in unethical practices. These consumers are likely to align their purchasing decisions with their moral values.
Understanding consumers' motivation and moral level is crucial for businesses and marketers. It allows them to tailor their marketing strategies, product positioning, and messaging to resonate with consumers' underlying drivers and ethical considerations. By appealing to consumers' intrinsic and extrinsic motivations, businesses can emphasize the benefits and emotional satisfaction associated with their products or services. Additionally, companies can address consumers' moral concerns by highlighting their commitment to social responsibility, sustainability, and ethical practices.
PERCEPTION OF THE CONSUMER
Perception, as a psychological determinant of consumer behavior, refers to how individuals interpret and make sense of the world around them. It involves the process of selecting, organizing, and interpreting sensory information to create a meaningful understanding of the stimuli they encounter.
Consumer perception plays a crucial role in shaping preferences, attitudes, and purchasing decisions. It influences how consumers perceive and evaluate products, brands, marketing messages, and overall shopping experiences. Perception is subjective and can vary from person to person based on their unique cognitive filters, past experiences, cultural background, and individual differences.
Consumers' perception is influenced by several factors, including: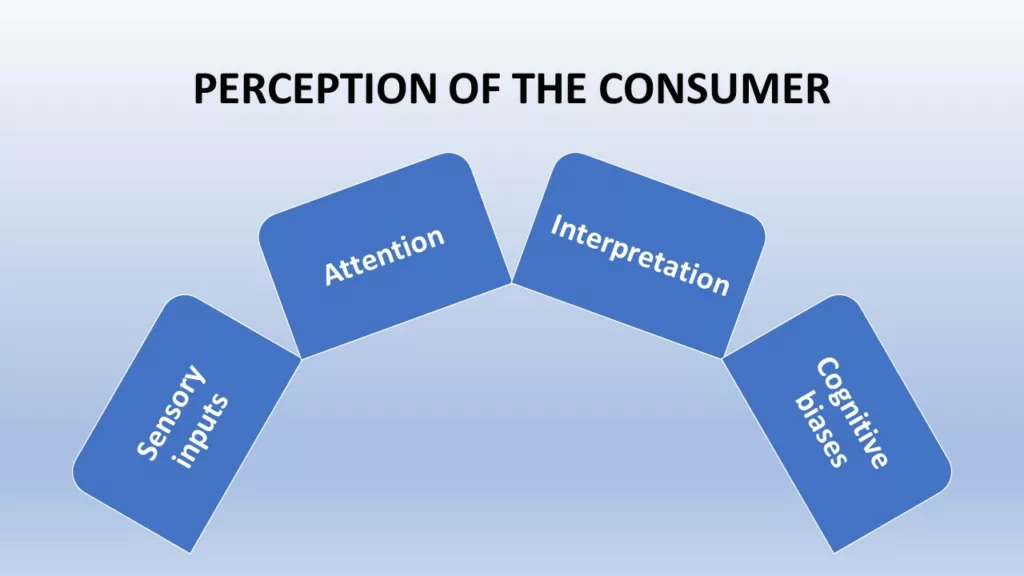 Sensory inputs: Consumers receive information through their senses, such as sight, hearing, touch, taste, and smell. The sensory inputs they receive from products, packaging, advertisements, and store environments can significantly impact their perception and evaluation of those stimuli.
Attention: Consumers selectively attend to certain stimuli while ignoring others. Factors like novelty, relevance, and personal interests influence what captures their attention. Marketers strive to create attention-grabbing advertisements or packaging to ensure their products stand out among competitors.
Interpretation: Consumers interpret the sensory inputs based on their existing knowledge, beliefs, and expectations. They make associations, draw conclusions, and attribute meaning to the stimuli they encounter. For example, a consumer may interpret a luxury brand's packaging as a sign of superior quality and prestige.
Cognitive biases: Consumers' perception is susceptible to cognitive biases, which are systematic errors in thinking that influence judgment and decision-making. Biases such as confirmation bias (favoring information that confirms existing beliefs) or anchoring bias (relying heavily on initial information) can impact consumers' perceptions of products or brands.
Understanding consumer perception is essential for businesses and marketers to effectively shape consumers' attitudes and behaviors. By influencing consumers' perception of their products or services, companies can create favorable brand associations, differentiate themselves from competitors, and build positive brand images. Marketers can employ strategies such as sensory branding, packaging design, and carefully crafted advertisements to shape consumers' perception in alignment with their desired brand positioning.
Additionally, businesses can leverage consumer perception to manage and enhance the overall customer experience. By understanding how consumers perceive different touchpoints, such as online interactions, customer service, or physical store environments, companies can design customer-centric experiences that positively influence consumer behavior and drive customer satisfaction and loyalty.
ATTITUDES OF THE CONSUMER
Attitudes, as a psychological determinant of consumer behavior, refer to individuals' overall evaluations and feelings towards a particular object, person, brand, or idea. Attitudes play a significant role in shaping consumer behavior as they influence consumers' preferences, purchase intentions, and decision-making processes.
Consumer attitudes are formed through a combination of cognitive, affective, and behavioral components. The cognitive component represents consumers' beliefs, thoughts, and knowledge about the object or brand. The affective component reflects the emotional responses or feelings associated with the object or brand. The behavioral component represents consumers' behavioral tendencies or intentions towards the object or brand.
Attitudes can be developed through various sources, including personal experiences, social influences, marketing communications, and cultural factors. Positive attitudes towards a brand or product are more likely to result in favorable consumer behaviors such as repeat purchases, brand loyalty, and positive word-of-mouth.
Attitudes can be classified into three main types based on their level of involvement and consistency: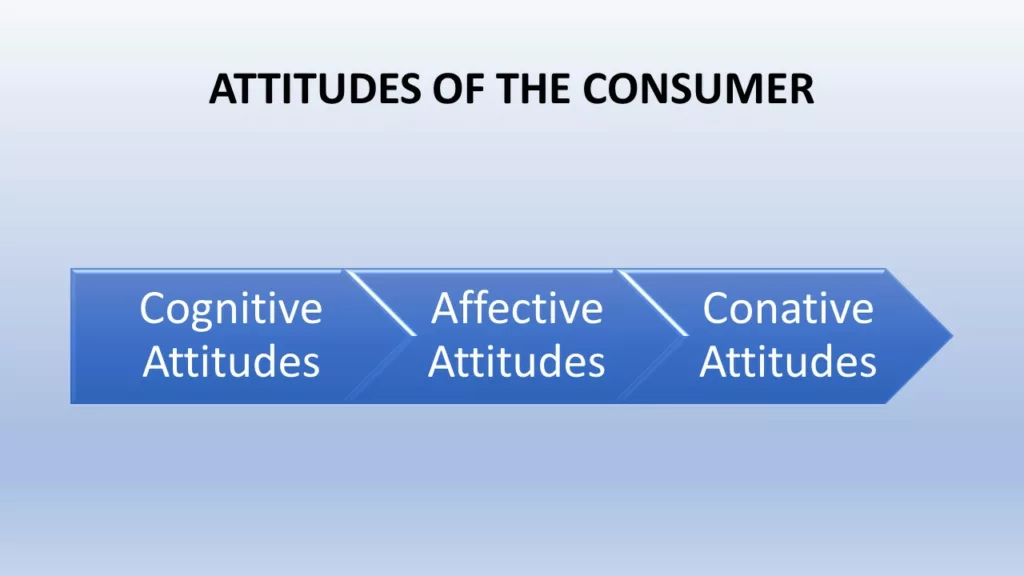 Cognitive Attitudes: These attitudes are based on consumers' knowledge and beliefs about a product or brand. They are primarily driven by rational evaluation and logical reasoning. Cognitive attitudes play a significant role in high-involvement purchase decisions where consumers carefully evaluate product features, benefits, and performance.
Affective Attitudes: Affective attitudes are driven by consumers' emotional responses and feelings towards a product or brand. These attitudes are often formed through experiences, aesthetic appeal, and emotional associations. Affective attitudes play a crucial role in influencing impulsive or emotionally-driven buying decisions.
Conative Attitudes: Conative attitudes represent consumers' behavioral tendencies or intentions towards a product or brand. They reflect the likelihood of consumers engaging in specific behaviors, such as purchase, recommendation, or brand advocacy. Conative attitudes are important for predicting and understanding consumer actions.
Marketers and businesses strive to shape and influence consumer attitudes through various strategies. Advertising, branding, product positioning, customer experiences, and social influence play significant roles in shaping consumer attitudes. By understanding the components and formation of attitudes, businesses can design marketing campaigns, communication strategies, and product offerings that align with consumers' attitudes and create positive associations.
It is important to note that attitudes are not static and can change over time due to new information, experiences, or changing circumstances. Marketers need to continuously monitor and adapt their strategies to align with evolving consumer attitudes to stay relevant and maintain positive consumer perceptions.
LEARNING OF THE CONSUMER
Learning, as a psychological determinant of consumer behavior, refers to the process through which individuals acquire knowledge, skills, and behaviors based on their experiences, observations, and interactions with the environment. Consumer learning plays a significant role in shaping consumer behavior as it influences how individuals perceive, evaluate, and respond to marketing stimuli, brands, and products.
Consumer learning can occur through several mechanisms, including: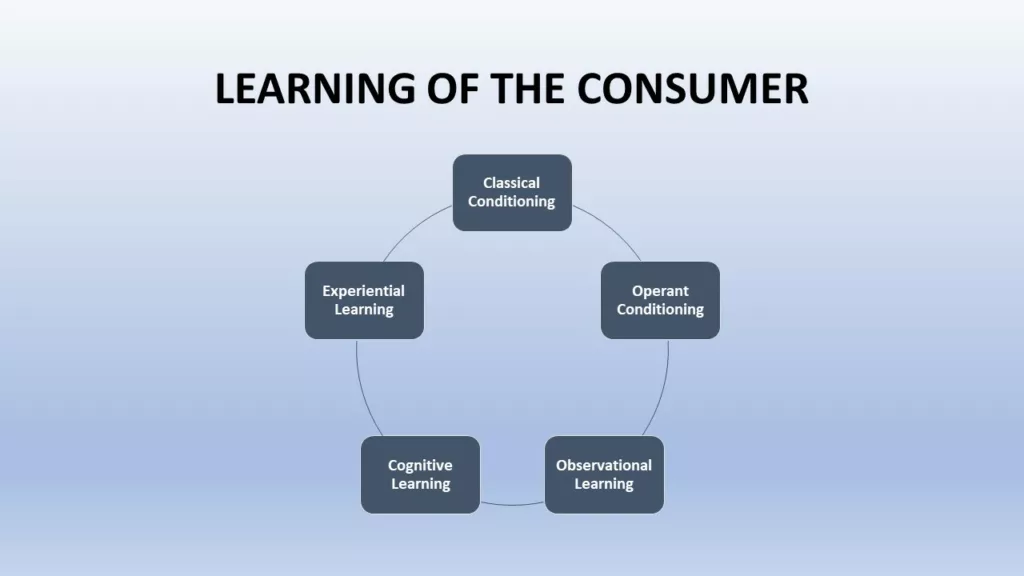 Classical Conditioning: Classical conditioning occurs when a neutral stimulus becomes associated with a meaningful stimulus, leading to a learned response. Marketers often use this technique to create positive associations between their brand and desirable outcomes. For example, pairing a product with a celebrity endorsement can transfer positive feelings associated with the celebrity to the brand.
Operant Conditioning: Operant conditioning involves learning through rewards and punishments. Consumers learn to associate certain behaviors with positive or negative consequences. For instance, loyalty programs that reward customers for repeat purchases can reinforce buying behavior and foster brand loyalty.
Observational Learning: Observational learning occurs when individuals acquire knowledge and behaviors by observing others. Consumers learn by observing and imitating the behavior of role models, peers, or influential figures. Marketers leverage this by using testimonials, influencer marketing, or social proof to showcase desired behaviors and encourage consumer adoption.
Cognitive Learning: Cognitive learning involves the acquisition of knowledge, beliefs, and problem-solving skills through mental processes such as reasoning, memory, and information processing. Consumers actively seek information, evaluate alternatives, and make informed decisions based on cognitive learning. Marketers can provide relevant and reliable information to aid consumer decision-making.
Experiential Learning: Experiential learning occurs through direct personal experiences. Consumers learn by using or interacting with products and services, evaluating their performance, and forming judgments based on their experiences. Positive experiences can lead to repeat purchases and brand loyalty, while negative experiences can result in consumer dissatisfaction and avoidance.
Understanding consumer learning is crucial for marketers as it helps them design effective marketing strategies that facilitate learning and influence consumer behavior. Marketers can create positive learning experiences by providing informative and engaging product demonstrations, offering trial periods, or providing customer support to address consumer inquiries.
PERSONALITY OF THE CONSUMER
Personality, as a psychological determinant of consumer behavior, refers to the unique set of consistent traits, characteristics, and behaviors that define an individual's distinctive pattern of thinking, feeling, and acting. Personality influences how consumers perceive, evaluate, and respond to marketing stimuli, brands, and products, shaping their preferences, attitudes, and purchasing decisions.
Consumer personality can be described by various traits, such as extraversion, agreeableness, openness to experience, conscientiousness, and emotional stability. Each trait has different implications for consumer behavior. For example: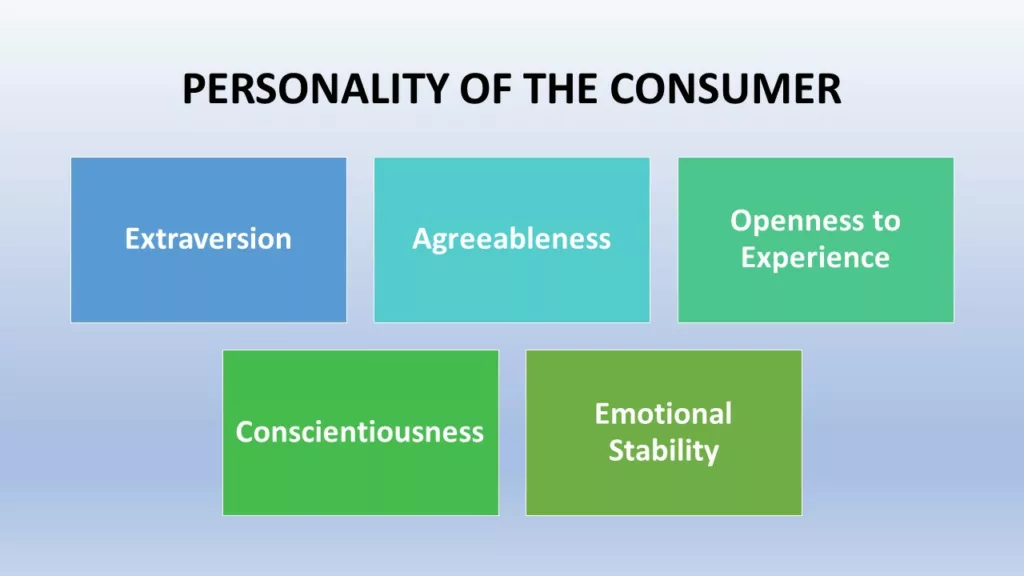 Extraversion: Consumers high in extraversion tend to be sociable, outgoing, and seek social interactions. They may be more likely to engage in impulse buying, respond positively to social influence, and enjoy shopping as a social activity.
Agreeableness: Consumers high in agreeableness are characterized by kindness, cooperation, and a desire to maintain harmony. They may be more responsive to cause-related marketing, value customer service, and prefer brands that align with their values.
Openness to Experience: Consumers high in openness to experience are imaginative, curious, and open-minded. They may be more receptive to innovative or unique products, enjoy exploring new brands, and be early adopters of new trends.
Conscientiousness: Consumers high in conscientiousness are disciplined, organized, and focused on achieving goals. They may prioritize product quality, consider product reviews and ratings before making decisions, and engage in thorough information search and evaluation.
Emotional Stability: Consumers high in emotional stability are calm, composed, and resilient in the face of stress. They may be less susceptible to emotional appeals in advertising and more likely to make rational and consistent purchase decisions.
Understanding consumer personality helps marketers tailor their marketing strategies to appeal to different consumer segments. By aligning brand messages, advertising, and product attributes with specific personality traits, marketers can create a strong brand-personality fit and resonate with their target audience.