DIVERSITY OF CONSUMER BEHAVIOUR
Consumer behavior is a complex subject influenced by various factors, including individual characteristics, social and cultural influences, and situational variables. As a result, there is significant diversity in consumer behavior across different individuals, groups, and markets. Here are some key aspects of diversity in consumer behavior: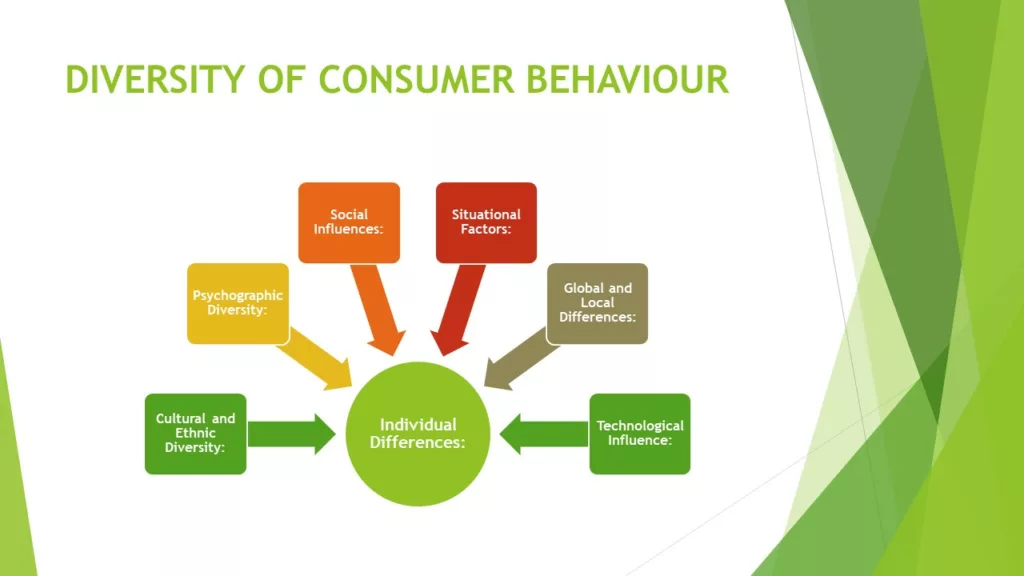 Individual Differences
Individual differences refer to the unique characteristics and attributes of consumers that influence their behavior in the marketplace. These differences can include demographics such as age, gender, income, education, and occupation. For example, younger consumers may be more open to adopting new technologies and trends, while older consumers may exhibit more traditional buying patterns.
Individual differences also encompass psychological factors like personality traits, motivations, attitudes, and values. Consumers with different personalities and motivations will have distinct preferences and buying behaviors. For instance, an extroverted individual may be more inclined towards socializing and trying new experiences, while an introverted person may prefer quieter, more solitary activities.
Cultural and Ethnic Diversity
Cultural and ethnic diversity refers to the variations in consumer behavior arising from different cultural backgrounds, values, beliefs, and traditions. Culture plays a vital role in shaping consumer preferences, consumption patterns, and decision-making processes. For instance, certain cultures may prioritize collectivism and emphasize family-oriented values, leading to different purchasing decisions and brand choices compared to cultures that prioritize individualism.
Ethnic diversity also influences consumer behavior as different ethnic groups may have unique preferences based on their heritage, traditions, and customs. For example, food preferences, clothing styles, and celebrations can differ significantly across different ethnic groups, leading to diverse consumer behavior patterns.
Psychographic Diversity
Psychographic diversity encompasses consumers' psychological characteristics, lifestyles, interests, and attitudes. Psychographic segmentation helps marketers understand consumer behavior by categorizing individuals based on their shared values, opinions, and behaviors.
Consumers with similar psychographic profiles may have similar preferences and buying patterns. For example, environmentally conscious consumers may prioritize purchasing eco-friendly products, while status-oriented individuals may be drawn to luxury brands. Psychographic factors allow marketers to target specific segments with tailored marketing messages and product offerings.
Social Influences
Social influences refer to the impact of social factors on consumer behavior. These factors include family, friends, reference groups, and social class. Consumers are influenced by the opinions, recommendations, and behavior of those around them.
Family plays a critical role in shaping consumer behavior, as household dynamics, family traditions, and decision-making processes vary among different families. Reference groups, such as friends or social media influencers, can significantly impact consumer choices, particularly among younger consumers who seek validation and follow trends.
Social class also influences consumer behavior, with different social classes exhibiting distinct consumption patterns. Factors like income, education, and occupation can determine the types of products and brands that individuals from different social classes prefer and purchase.
Situational Factors
Situational factors refer to the specific circumstances or context in which consumers make purchasing decisions. These factors can include time constraints, physical surroundings, purchase occasion, and the consumer's mood or emotional state at the time of the purchase.
For example, time constraints can influence consumer decision-making, as individuals may prioritize convenience and choose products or services that save time. Physical surroundings, such as store atmospherics, product displays, and background music, can impact consumer perceptions and buying behavior.
Purchase occasions, such as holidays or special events, can also trigger specific consumer behaviors. Consumers may be more willing to splurge or indulge during festive seasons, leading to changes in their purchase decisions. Furthermore, a consumer's mood or emotional state can influence their choices. Emotional states like happiness, sadness, or stress can impact buying behavior and the products or services consumers are attracted to.
Global and Local Differences
Global and local differences in consumer behavior arise from variations across countries, regions, or markets. These differences result from diverse cultural, economic, legal, and social environments.
Cultural variations play a crucial role in global consumer behavior. Consumers from different countries may have distinct preferences, tastes, and buying habits due to cultural differences, norms, and traditions. For example, the concept of personal space may vary across cultures, impacting consumer behavior in terms of willingness to engage with salespeople or touch products in-store.
Economic factors, such as income levels, purchasing power, and market conditions, also contribute to global and local differences in consumer behavior. Different income levels and economic development stages across countries can lead to variations in consumer preferences and consumption patterns.
Legal and social factors, including regulations, ethical considerations, and societal norms, further influence consumer behavior across different markets. For instance, dietary restrictions, advertising regulations, or social taboos can shape consumer choices and behavior.
Technological Influence
Technological advancements and the widespread adoption of digital platforms have significantly impacted consumer behavior. Technological influence encompasses how consumers interact with technology, digital media, and online platforms, and how it shapes their purchasing decisions.
Different generations and segments of the population exhibit varying levels of technological literacy and engagement. For example, younger consumers who grew up with technology may be more comfortable with online shopping and mobile payments, while older consumers may prefer traditional brick-and-mortar stores.
Technological influence also includes the impact of social media, online reviews, and influencers on consumer behavior. Consumers increasingly rely on online sources for information, recommendations, and reviews before making purchasing decisions. Social media platforms provide opportunities for targeted marketing and personalized communication with consumers.
Moreover, technological advancements have led to the rise of e-commerce, personalized marketing, and data-driven approaches, which enable companies to tailor products, services, and experiences to individual consumers, further diversifying consumer behavior.
Understanding these diverse aspects of consumer behavior allows businesses and marketers to develop effective strategies that resonate with their target audiences, build strong relationships, and drive consumer satisfaction and loyalty.