SCIENTIFIC APPROACH FOR STUDYING CONSUMER BEHAVIOR
The scientific approach for studying consumer behavior refers to the application of rigorous scientific methods and principles to investigate and understand how individuals and groups make decisions related to consumption. It involves systematic observation, data collection, analysis, and the development of theories and models to explain and predict consumer behavior. The scientific approach seeks to provide objective and reliable insights into consumer behavior, which can be used to inform marketing strategies, product development, and business decision-making.
STEPS OF SCIENTIFIC APPROACH FOR STUDYING CONSUMER BEHAVIOR
Here are the key steps involved in the scientific approach for studying consumer behavior: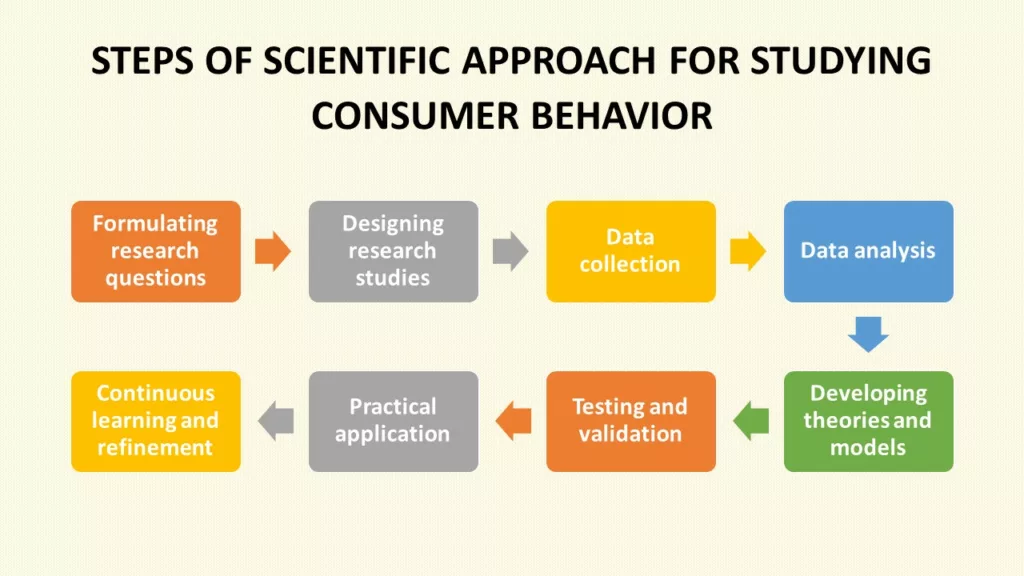 Formulating research questions: Researchers start by identifying specific research questions or hypotheses they want to address. These questions should be clear, focused, and relevant to understanding consumer behavior.
Designing research studies: Researchers design studies or experiments to collect data that will help answer the research questions. This involves determining the appropriate research methods, such as surveys, interviews, experiments, or observational studies, and selecting the sample size and characteristics of the participants.
Data collection: Researchers collect data using the chosen research methods. This may involve conducting surveys, interviews, observations, or experiments with consumers. The data collected can be qualitative (e.g., open-ended responses, interview transcripts) or quantitative (e.g., numerical ratings, demographic information) and can be collected through various channels such as online surveys, in-person interviews, or data analytics.
Data analysis: Once the data is collected, researchers analyze it using statistical and analytical techniques. This involves organizing, summarizing, and exploring the data to identify patterns, trends, and relationships. Statistical methods, such as regression analysis or factor analysis, may be employed to test hypotheses and determine the significance of findings.
Developing theories and models: Based on the analysis of the data, researchers develop theories or models that explain and predict consumer behavior. These theories may draw on existing theories from disciplines like psychology, sociology, economics, and marketing, or they may propose new conceptual frameworks specific to consumer behavior.
Testing and validation: The developed theories and models are tested and validated through additional research studies. This process involves replicating the findings using different samples, contexts, or methodologies to ensure the robustness and generalizability of the results. Validation may also involve comparing the proposed theories/models with alternative explanations or conducting longitudinal studies to assess the stability of the findings over time.
Practical application: The insights gained from the scientific approach are applied in practical contexts such as marketing strategies, product development, and consumer communication. Businesses can use the research findings to tailor their marketing efforts, refine product offerings, segment their target audience, or design persuasive messaging that aligns with consumer preferences and motivations.
Continuous learning and refinement: The scientific approach to studying consumer behavior is an iterative process. Researchers continuously evaluate and refine existing theories and models based on new evidence and insights. This ongoing learning contributes to the advancement of knowledge in the field and ensures that research remains relevant and up-to-date.
REASONS FOR STUDYING SCIENTIFIC APPROACH FOR STUDYING CONSUMER BEHAVIOR
The scientific approach is considered the best approach for studying consumer behavior due to several key reasons. Here are ten points highlighting why the scientific approach is advantageous: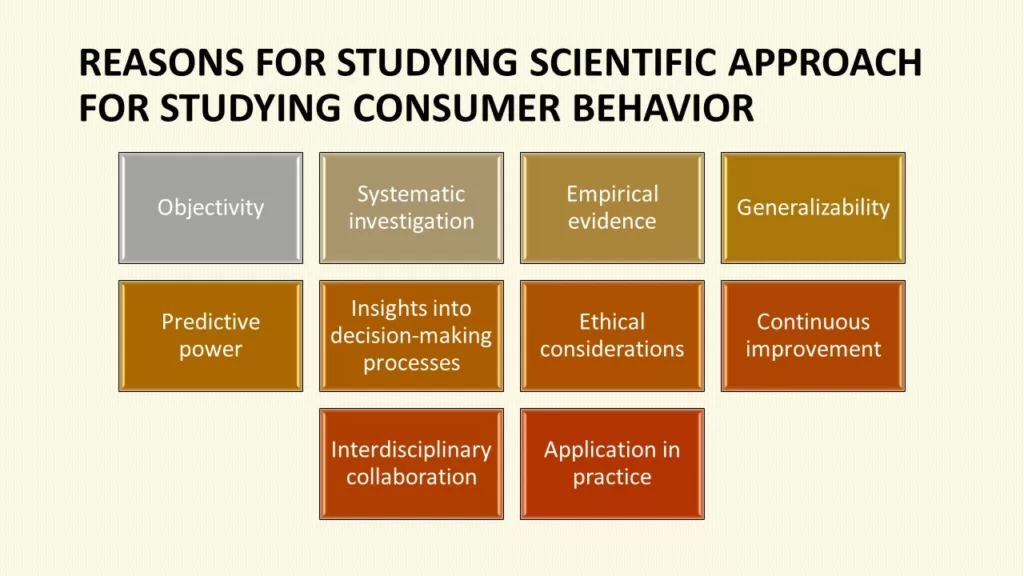 Objectivity: The scientific approach emphasizes objectivity in the study of consumer behavior. It relies on systematic observations, data collection, and analysis to ensure that researchers' biases and personal opinions do not influence the findings. This objectivity enhances the reliability and credibility of the research.
Systematic investigation: The scientific approach provides a structured and systematic framework for investigating consumer behavior. It involves formulating research questions, designing experiments or surveys, collecting and analyzing data, and drawing conclusions based on evidence. This systematic process allows for the replication and verification of results, ensuring the validity of the findings.
Empirical evidence: The scientific approach relies on empirical evidence, which is gathered through direct observation or experimentation. By collecting real-world data, researchers can make informed conclusions about consumer behavior. Empirical evidence serves as a foundation for theories and models that help explain and predict consumer behavior more accurately.
Generalizability: The scientific approach aims to achieve generalizability, meaning that the findings of a study can be applied to a broader population or context. By employing rigorous research methods and representative samples, researchers can draw conclusions that have broader implications beyond the specific study. This generalizability allows for the development of theories and concepts that apply to a wide range of consumer behaviours.
Predictive power: The scientific approach focuses on identifying patterns and relationships in consumer behavior. By using statistical analysis and modeling techniques, researchers can develop predictive models that anticipate consumer responses and actions. This predictive power enables businesses to make informed decisions, tailor marketing strategies, and design products that better meet consumer needs and preferences.
Insights into decision-making processes: The scientific approach provides valuable insights into the decision-making processes of consumers. By studying consumer behavior scientifically, researchers can uncover the cognitive, emotional, and social factors that influence purchasing decisions. Understanding these processes allows businesses to optimize their marketing strategies, product positioning, and pricing to appeal to consumers effectively.
Ethical considerations: The scientific approach emphasizes ethical considerations in studying consumer behavior. Researchers adhere to ethical guidelines that protect the rights and well-being of participants. This ensures that data collection methods are conducted responsibly, informed consent is obtained, and participant confidentiality is maintained. Ethical research practices foster trust between researchers and participants, contributing to the integrity of the research outcomes.
Continuous improvement: The scientific approach encourages ongoing refinement and improvement in the study of consumer behavior. Researchers continuously evaluate existing theories and hypotheses, seeking to expand knowledge and understanding. Through iterative cycles of research, new insights emerge, leading to the development of more accurate models and theories that can better explain and predict consumer behavior.
Interdisciplinary collaboration: Consumer behavior research often benefits from interdisciplinary collaboration. The scientific approach facilitates the integration of knowledge from various fields such as psychology, sociology, economics, marketing, and neuroscience. This interdisciplinary collaboration allows for a more comprehensive and nuanced understanding of consumer behavior, considering multiple perspectives and contributing to the development of a cohesive body of knowledge.
Application in practice: The scientific approach to studying consumer behavior is highly applicable in real-world contexts. The insights gained from scientific research can be directly translated into practical strategies and actions for businesses and marketers. By understanding consumer behavior through empirical evidence and predictive models, companies can improve their marketing campaigns, create better customer experiences, and enhance overall business performance.
In conclusion, the scientific approach is the best approach for studying consumer behavior due to its emphasis on objectivity, systematic investigation, empirical evidence, generalizability, predictive power, insights into decision-making processes, ethical considerations, continuous improvement, interdisciplinary collaboration, and practical application. By employing this approach, researchers can uncover valuable insights about consumers, enabling businesses to better understand and meet their needs and preferences.