BUDGETARY CONTROL NOTES
QUESTION: Define Budgetary Control and discuss the objectives of introducing Budgetary Control in an organisation?
ANSWER:
Budgetary control is the process by which budgets are prepared for the future period and are compared with the actual performance for finding out variances, if any. The comparison of budgeted figures with actual figures will help the management to find out variances and take corrective actions without any delay.
ACCORDING TO BROWN AND HOWARD
"Budgetary control is a system of controlling costs which includes the preparation of budgets, coordinating the departments and establishing responsibilities, comparing actual performance with the budgeted and acting upon results to achieve maximum profitability."
ACCORDING TO J BATTY
"Budgetary control is a system which uses budgets as a means of planning and controlling all aspects of producing and / or selling commodities or services."
OBJECTIVES OF BUDGETARY CONTROL
The following are the objectives of a budgetary control: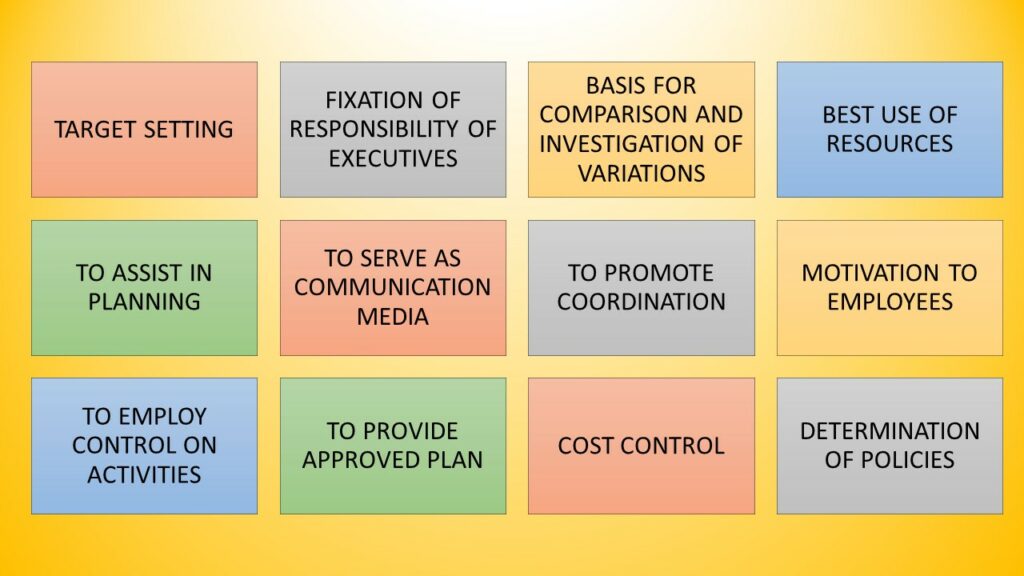 TARGETS SETTING
Identify the overall aims and objectives of the business and determining targets of performance for each section or department of the business.
FIXATION OF RESPONSIBILITIES OF EXECUTIVES
Laying down the responsibilities of each of the executives and other personnel so that everyone knows what is expected of him and how he will be evaluated. Budgetary control is one of the few ways in which an objective assessment of executives and departments is possible.
BASIS FOR COMPARISON AND INVESTIGATION OF VARIATIONS
Providing a basis for the comparison of actual performance with predetermined targets and investigation of variations, if any, between the budgeted targets and the actual. This helps in adopting corrective measures.
BEST USE OF RESOURCES
Ensuring the best use of all available resources to maximise profit or production, subject to the limiting factors. Since proper preparation of budgets requires consideration of all aspects, there is usually good co­ordination when a system of budgetary control exists.
TO ASSIST IN PLANNING
Planning is an important managerial function. It helps to decide in advance, what to do, how to do it, when to do it and who is to do it. Planning, thus, helps the managers to anticipate eventualities, prepare for contingencies for achieving the ultimate goals. Budget preparation drives the managers to plan ahead.
Managers express their opera­tional plans for anticipated business conditions. Without a formal procedure of budgetary control, many operating managers will not find the time to plan ahead. Thus, budgeting is an important planning device.
TO SERVE AS COMMUNICATION MEDIA
The employees of an organisation should know organisational aims, objectives of sub-units (budget centres) and the part that they have to play for their attainment. Budgets effectively communicate this information to employees. Besides, budgets keep different sections of the organisation informed about the contribution of different sub-units in the attainment of overall organisational objectives.
TO PROMOTE COORDINATION
To coordinate is to harmonise all the activities of a company so as to facilitate its working and its success.
Coordination will lead to following results:
i. Each department will work in harmony with others,
ii. Each department will know the specific role that it has to play in the accomplish­ment of overall organisational objectives, and
iii. The sequential arrangement of activities of different departments is so governed that overlapping of activities and wastage of time and labour is avoided.
A comprehensive system of budgeting helps to coordinate different functional budgets. In other words, a budget will preclude the production department from producing more than the sales department can sell.
MOTIVATION TO EMPLOYEES
If employees have actively participated in budget preparation and if they are convinced that their personal interests are closely associated with the success of organiza­tional plan, budgets provide motivation in the form of goals to be achieved. The budgets will motivate the workers, depends purely on how the workers have been mentally and physically involved with the process of budgeting.
TO EMPLOY CONTROL ON ACTIVITIES
Under the system of budgetary control, budget forecast is thoroughly discussed and reviewed to be finally approved as functional budgets. Thereafter a lot of 'cuts' and 'adjustments' are made to make functional budgets fit in the organizational objectives.
Then budget formation is followed by a feedback system to pinpoint the extent of variation between actual level of performance and budgeted level of performance. Thus, the inbuilt mechanism of the routine of budgetary control is bound to precipitate to an operational control.
TO PROVIDE APPROVED PLAN
A master budget provides an approved summary of results to be expected from proposed plan of operations. It concerns all functions of organisation and serves as a guide to executives and departmental heads responsible for various departmental objectives.
COST CONTROL
The main aim of budgetary control is to control the production and other costs with maximum output.
DETERMINATION OF POLICIES
Business policies are determined through budgetary control, which shows the path for the future growth of the organisation.
CONCLUSION
Budgetary Control is applied to a system of management and accounting control by which all operations and output are forecasted as far ahead as possible and actual results when known are compared with budget estimates. Budgetary control is very much useful in large as well as medium concerns to achieve the economy in operations.