REASONS FOR DOING INTERNATIONAL BUSINESS
EXPLAIN THE RATIONALE OF COMPANIES GOING GLOBAL?
The rationale of the companies going global is supported by various reasons. The business expanding globally can enjoy the benefits of generation of more revenue, competing for the new sales or increasing market share, new investment opportunities, diversifying the business, enjoying economies of scale and recruiting the new talent.
The following points will clearly explain the reasons for doing international business: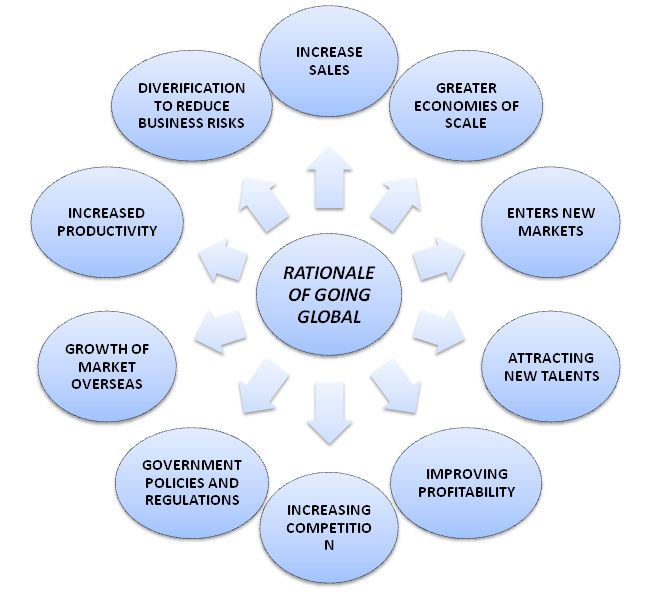 INCREASE SALES
The expansion of business at a global scale will increase overall revenue sales and reduce operational costs, through attracting a larger customer base. In addition, through the help of technologies and the revolution of the internet, international commerce has become even more attractive, for smaller businesses. Through having the opportunity to outsource, they are able to reduce costs and improve their business management & operational efficiency.
GREATER ECONOMIES OF SCALE
Some companies may want to expand their business products, as they are more likely to be accepted around the world. In many industries, expansion through internationalisation may benefit companies through achieving better economies of scale. By producing the goods at a large scale leads to the declining per unit cost. This will make the product produce at cheaper cost than before and can be made available for sale at reasonable price. Moreover, internationalisation may also serve as an opportunity to differentiate or exploit a new product extension, service, or brand.
ATTRACTING NEW TALENTS
Going international enables companies to have access to a broader talent pool. Employees that speak multiple languages and are accustomed to different cultures are able to develop connections with a wider customer base. Moreover, it allows companies to create global work teams, that have expertise in local markets and that are able to exploit domestic market resources and raw materials, through connecting with local suppliers.
IMPROVING PROFITABILITY
Improving profit margins is one of the most common reasons for doing international business. When growth strategies are used up on the national level, the next path is often to seek out international growth. Distributing the products in additional countries increases the customer base. This build loyalty across international markets, revenue strengthens and increases as well.
INCREASING COMPETITION
Competition may become a driving force behind international business. Competitors are an important factor which stimulates international business. Tata Motors became international in response to other automobile companies becoming international. Many companies also take an offensive international competitive strategy by way of counter competition.
GOVERNMENT POLICIES AND REGULATIONS
Government policies and regulations attract the manufacturers to internationalize. The governments of many countries including India give a number of incentives and other positive support to domestic firms to go international. For example Indian government provides a number of concessions to the firms engaged in exports to and in manufacturing in foreign countries.
After the economic reforms launched in 1991, Indian government has given a lot of incentives to attract foreign investment. Sometimes, as was the case in India, companies may be obliged to earn foreign exchange to finance their imports and to meet certain other foreign exchange requirements like payment of royalty, dividend etc.
Further, in India, companies were allowed to enter certain industries subject to specific export obligation. Some companies move to foreign countries because of environmental laws and other laws. Government policies which limit the scope of business in the domestic market may drive companies to move to other countries.
GROWTH OF MARKET OVERSEAS
The enormous growth potential of many overseas markets drive many companies to expand the market globally. Economic growth of many developing countries has created market opportunities that provide a major incentive for companies to expand globally. In a number of developing countries, both the population and income are growing fast.
Growth rate of India has been good and economic reforms have accelerated the growth. Further, economic growth has reduced resistance that might otherwise have developed in response to the entry of foreign firms into domestic economies. It is convenient for a foreign company to enter a domestic economy without taking business away from local firms.
Even if the market for several goods in these countries is not very substantial at present, many companies are eager to establish a foothold there, considering their future potential.
INCREASED PRODUCTIVITY
Increased productivity is necessary for the ultimate survival of a firm. This itself may lead a company to increase production. Increase in production facilitates a company to seek export markets. The pressure for global markets is intense when new products require major investments and long periods of development time. The cost of research and development must be recovered in the global market place, as no single national market is likely to be large enough to support investments of this size.
DIVERSIFICATION TO REDUCE BUSINESS RISKS
A diversified export business may reduce sharp fluctuations in the overall activity of a firm. Decline of sales in one market may be counter balanced by a rise in the sales in other markets. Foreign markets even cut fluctuations by providing outlets for excess production capacity.
The systematic and growing internationalization of many countries is essentially a part of their business policy or strategic management. The stimulus for internationalization comes from the urge to grow, the need to become more competitive. The need to diversify and to gain strategic advantages of industrialization. For example, many Indian pharmaceutical firms have realized that they have very good growth prospects in the foreign markets. There are a number of corporations which are truly global. Their policies have been framed considering the entire world a single market.
JOIN THE CHANNEL ON TELEGRAM
CONNECT ON LINKEDIN