LIMITATIONS OF STATISTICS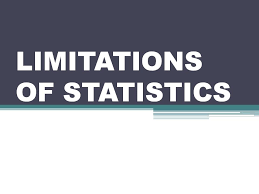 Undoubtedly, statistics has universal applicability, but there are also some facts which prove as limitations of statistics.
ACCORDING TO NEWSHOLME
"Statistics must be regarded as an instrument of research of great value but having severe limitations which are not possible to overcome and as such need our careful attention."
The limitations of statistics are as follows:
QUALITATIVE ASPECTS IGNORED
Statistics consider only those facts that can be expensed quantitatively. It means statistics do not record qualitative aspects of the data. The important variables like honesty, integrity, loyalty etc. cannot be studied under the scope of the statistics. To study the qualitative data, first it must be converted into the quantitative form, and then the technique of statistical analysis can be applied on it.
ACCORDING TO HORACE SACRIST
"Some phenomenon cannot be quantitatively measured, honesty of resourcefulness, integrity, goodwill, all important in industry as well as in life generally, are not susceptible of direct statistical measurement."
STATISTICS DEALS WITH AGGREGATES ONLY
The results of the statistics are not applicable on the individuals. This is so because statistics cannot deal with the single, isolated and ungrouped data. It deals with set of observations only.
EXAMPLE: The finding of per capita income of Punjab does not mean every person residing there has same income. Some people may have more and other may have less. This shows that statistics do not deal with individuals and its results are applicable on group only.
STATISTICS DEALS WITH AVERAGES ONLY
ACCORDING TO WI KING
"Statistics largely deals with averages and these averages may be made up of individuals items radically different from each other."
The above statement truly reflects that statistics deals with averages only. In fact, statistics is not a pure science as like other physical sciences. The reason being the phenomenon taken under the study is affected by multiplicity of causes. And it is impossible to study the effect of each factor individually.
STATISTICS CAN BE MISUSED
Statistics can be easily misused if the wrong person is using it. There is lots of personal judgment or biasness involved in it while:
Selecting the analysis technique
Selecting the sample
Deriving the results.
A statistician or researcher can misuse the data collected
If he has no proper knowledge to use it
If he is inexperienced
By applying biased analysis techniques
By choosing favorable items in the sample.
STATISTICS DOES NOT REVEAL THE ENTIRE STORY
Statistics do not provide solutions to the all kinds of the problems in all circumstances. There are so many problems which are affected by many factors like culture, religion, history, philosophy, character etc. Statistics are not of so much help to study all such problems.
STATISTICS CAN BE USED BY EXPERTS ONLY
The techniques of the statistics are not easy to use. These can be used by experts only who are having sufficient knowledge of applying the techniques. Also the researcher must possess the experience of collecting the data from the adequate or correct sources.
STATISTICS RESULTS ARE NOT ALWAYS DEPENDABLE
Statistics is the science of averages. All the results are found out with the help of the probabilistic analysis techniques. The findings are not purely correct. The outcomes are also not applicable in all the situations. This proves as one of the serious limitations of statistics.
ACCORDING TO CONNOR
"Statistics deals only with measurable aspects of things and therefore can seldom give the complete solution to a problem. They provide a basis for judgement but not the whole judgment."
ONLY A MEAN NOT AN END
ACCORDING TO CROXTON AND COWDEN
"It must be assumed that the statistical method is the only method for the use in research; neither should this method be considered the best attack for every problem."
The tools of statistics are supposed to be only a means to understand any given problem rather than a method to solve any problem.
CONCLUSION
The limitations of statistics are numerous but it is still a useful and helpful science to study various problems. Only thing is that it must be used by experts with proper care and caution.